Hello, all, I recently changed my brakes up to the Gen 3 parts and I thought I'd write about it in case it will help anybody. Complete list of part numbers are at the bottom of this post.
***THIS is my first real attempt a write-up here so I'll have to monkey with the pictures and so forth...please stand by while I experience technical difficulties****
First, I have a 2002 2500 4x4. I don't know if this will work on the 99 and back which I've read have different axles.
Second, I'm not going to cover every little detail; this isn't a how-to (I'm sure this has been done to death). This is just to do three things: 1) provide positive reinforcement that it can be done and works, 2) provide a concise list of part numbers for someone who wants to do this without having to do the legwork I did, and 3) to provide information on a couple of pitfalls.
That said, I used all NAPA parts for the brakes since my neighbor and good friend owns the local NAPA store. I am happy with the performance of the brakes so far (I just installed the new wheels and tires today so I've not had much time to play with them, but they feel more solid than the previous brakes, also from NAPA). The factory brakes were always anemic to put it politely.
In order to do this from a STOCK 02 setup you will need from a 2003 year model 2500 4x4 (my write up only includes the 4x4 models, I don't know about the 2WD): rotors all the way around, brake pads all the way around, 17 inch or larger wheels all the way around (okay, I didn't try to put the 16's on the back...but really? How dumb would that look? So I put 17's all the way around), and *EITHER* new calipers with carriers *OR* just new carriers. I've read that the calipers are themselves the same from the 02 to the 03+ but the carriers are different. I didn't want to hunt around for just the carriers and I don't have a good wrecking yard around here so...I bought all new caliper assemblies complete with the carriers. I did compare the 02 calipers to the 03 and *visually* they seem to be the same, including the part numbers on them, IIRC. FWIW. YMMV. ILA (I Love Acronyms).
I chose to go with stamped steel wheels for cost (this is a work truck) and because I bounce up and down dirt roads in this rig and there's no point beating aluminum wheels up. I got some Cragars from Summit. Three showed up slightly scuffed and dinged but Summit gave me some money back on them. Other than that, I like them. I got CRR-3428980 wheels, bolt pattern is 8 on 6.5, they are 17" (as I stated already), and they are 9" wide. They have 5" backspace. I chose the 9" to give a more flush sidewall appearance with the tires.
I chose Hankook <something-or-other> MT tires on the recommendation of a friend of mine. I got them in 265/70 R17. The 265/70 R17 winds up being 1 inch shorter on diameter than my previous 285/75 R16's but still an inch taller than the factory 245/75 R16's.
I got the center caps and chrome lug nuts: centercap part number from Summit: CRR-29277-1. Chrome lug nuts P/N from Summit: SUM-7540163.
*Warning* the center cap is about the size of a clitoris on a blue whale. It offers very little room for the socket to fit around the lug nuts and not strike the center cap. Be careful or you'll scar up the center cap. Pop quiz: do female whales even have a clitoris? Oh,and the area around where the center cap has stamped CRAGAR on it looks like it was hand painted by authentic meth monkies. Really, not well done (see the picture).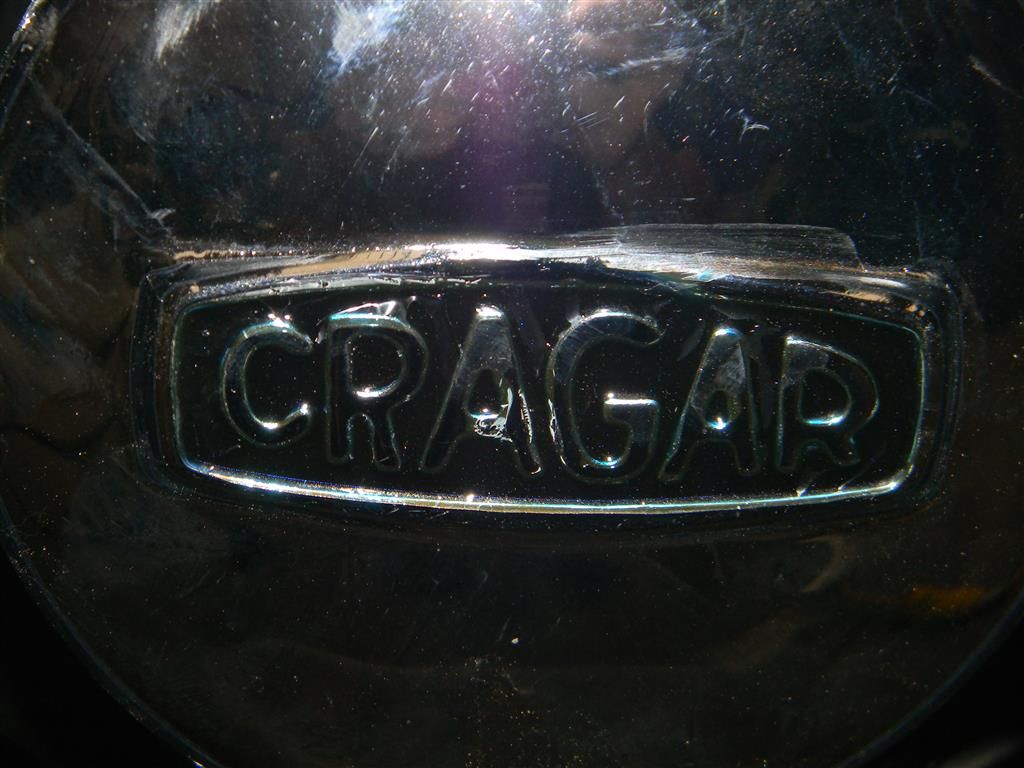 Installation is really pretty easy: pull off the old calipers and rotors, put the new ones on. Lefty loosey, righty tighty. I flushed the brake system since I'd *NEVER* put fluid in or changed the fluid in over 163,000 miles. Good idea.
Front one: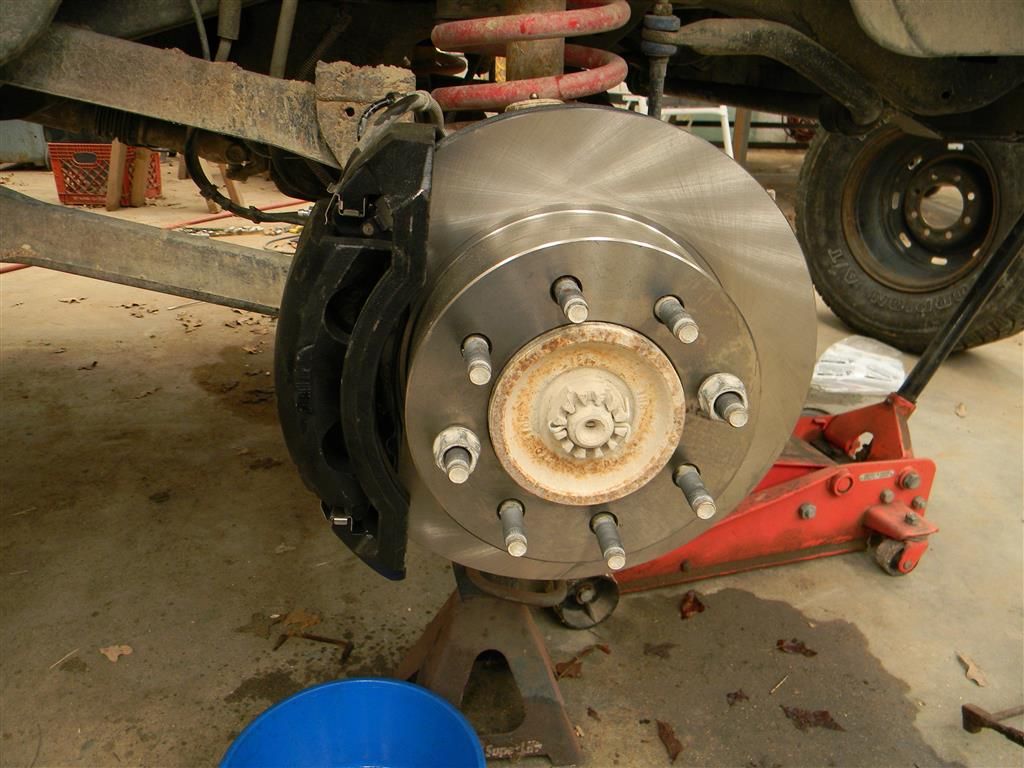 Rear one: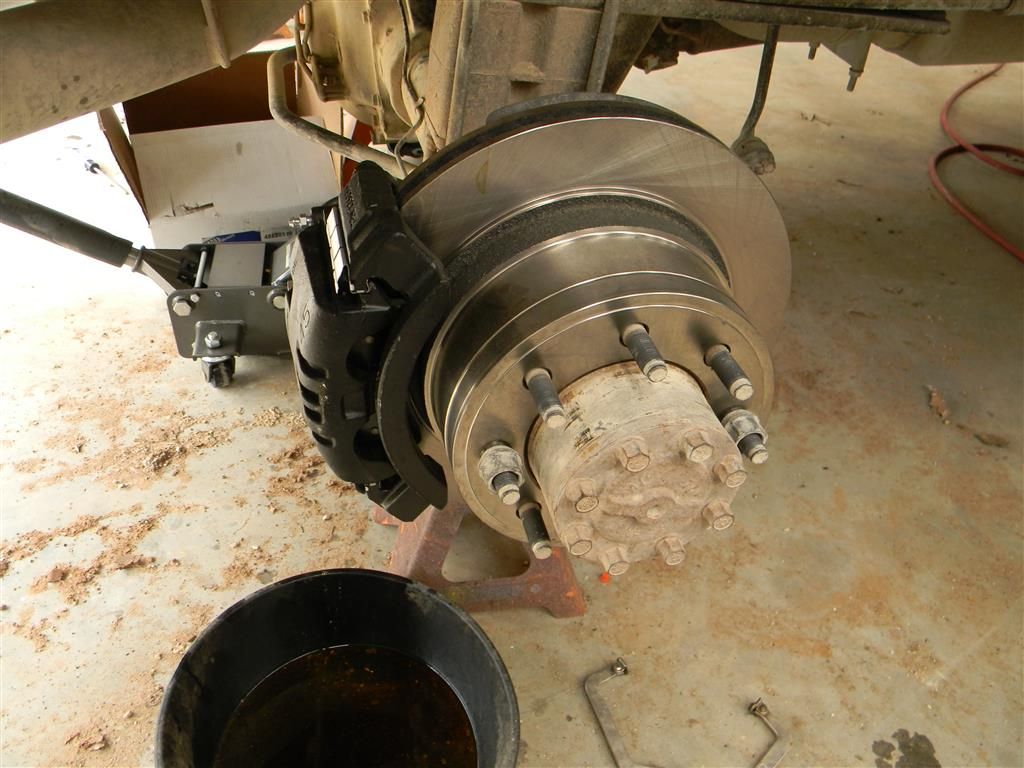 *Heads up* The bolt on the 02 calipers was a 5/16" by something thread whatever. The bolt on the 03 calipers is a 10mm x 1.0mm (this is the banjo bolt I'm referring to). The old one *kinda* fits in and threads but don't use it, it's too small to ever get tight; you'll just thrash the threads on the new caliper or the bolt. The part number for the bolt from Dodge is (per the baggy mine came in): 0650 8914 AA. Also, the torque spec on the 02 (from the FSM) is 40 lb/ft, unless I read it wrong. I might have because, when I found the banjo bolts wouldn't work from the 02 I tried machining some 10x1.00mm bolts to make my own and promptly twisted one off. ARRGGHH!!! So, I waited until the next day, got the factory parts and then used my German torque wrench: Gutentight. So, don't shower down on these things unless you don't mind backing one out or if you find I misread the torque spec and it's 40 lb/INCH or you find a lower torque spec for the 03+ banjo bolt. You've been warned; be careful or Sergeant Twistoff will visit you!
*Heads up* The 10x1.00mm bolt is slightly larger in diameter than the factory 2002 bolts, as I alluded to above. This means that the hole through the banjo fitting is slightly too small to allow the 10mm bolt to pass through it. I bored the holes in the banjo fittings with a 25/64 (IIRC, verify this is the right size by drilling a test hole in a sacrificial piece of metal (not wood)) inch bit which *just* permitted the new 10mm bolt to pass through. You could try a 13/32 for a little more room. I then sprayed the hound out of the fittings with brake parts cleaner as well as back up into the brake line a little to flush out any chips from boring the hole. Then I let the brake fluid drip from the tubing/banjo fitting to purge any remaining brake parts cleaner prior to connection to the calipers.
Bleed the system, mount your 17" or larger wheels/tires on and you're good to go. I'll hammer on the brakes in the next few days after they get broken in and let you know if I'm happy or not.
There very much doesn't appear to be enough room to run 16" wheels on this, as has been reported here several (many) times:
And with the first new wheel installed: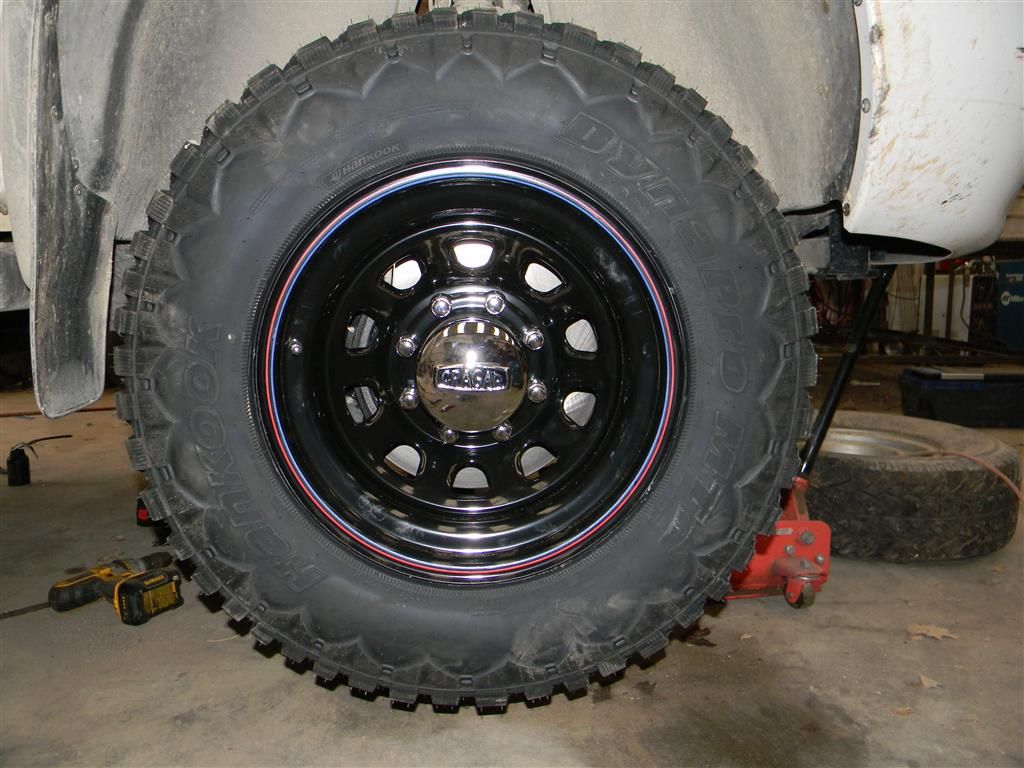 Anyway, hope this helps someone.
Here are the brake part numbers from NAPA:
Front
48880143 - Rotor (need two)
SE5442A - Caliper assembly Left
SE5441A - Caliper assembly Right
UP7864SD - Pads
Rear
48880139 - Rotor (need two)
SE5446A - Caliper assembly Left
SE5445A - Caliper assembly Right
UP7752SD - Pads
And putting it all in one place:
From the dealership
0650 8914 AA - Dodge banjo bolts 10mm x 1.00 mm (read bit about boring the banjo fittings above)
From Summit Racing
CRR-3428980 - Cragar black steel wheels, 8 on 6.5, 9 inch rim width
CRR-29277-1 - Center caps for Cragar wheels
SUM-7540163 - Chrome lug nuts
And in response to a reply to this thread...*HOW MUCH DID IT COST!?!*
Going from memory 'cause all my filing is done at my other place:
NAPA parts (rotors, pads, calipers): $700.00
Summit Racing parts (wheels, lug nuts, center caps): $500ish
Tire shop (tires, mount, balance, used spare rim (DO NOT FORGET TO CHANGE YOUR SPARE!!!!), used spare tire): $1,100ish
So, about $2,400 not including the brake fluid to flush and fill and bleed the system.
Bear in mind: if you already need rubber or if you already want new wheels, those costs can be considered separate (not really changing the overall cost...just how you justify it). More importantly, if you already have 17" wheels then you don't need to spend more than about 700 bucks to do this (and it could be cheaper if you just find some caliper carriers for the 3rd gen and re-use your old calipers).
--HC