Finishing
Before welding on the crossmember, I was expecting to need to remove paint from the area around the weld zone and then rattle can it when I was done, but after removing all the grime from the crossmember, mine appeared to have never been painted. It wasn't that it all peeled off, there was simply no evidence anywhere of any paint. It wasn't rusting very bad, and may have been galvanized originally, but this was a huge problem because I didn't allow time for sanding, priming, and painting the whole damn thing. Likewise, I planned to give the PTO covers and transfer case shifter bracket a quick squirt with Rustoleum and call it a day.
I was especially not looking forward to painting this crossmember after seeing the results of 3 days of prep work and painting on my front bumper this spring. I went further out of my way to do the paint right then as I ever have in my life, and 8 months later it's full of rock chips and looks like crap. I should have powdercoated it but I was being cheap and didn't want the downtime.
At the same time, I am on a budget and didn't want to pay for powdercoating and still not have the parts for days. But, there's a powdercoating place a block down the street from my work, and I figured I'd look into all the options.
Yesterday (Friday) at 8am I went over to
Spokane Wrought Iron
who does in-house sandblasting and powdercoating. I showed the parts to Enver, their powdercoating expert, and he said sandblasting and powdercoating on the crossmember, bracket, and both PTO covers would be $80 even. I mentioned I was in a hurry, and he said definitely by Monday but possibly today. I was expecting Monday, especially since I'm normally done at work around 3 and wouldn't be staying late to pick these up since I couldn't do anything with them this weekend.
6 hours later, Enver calls me up and says my parts are done. I was impressed at the turnaround, but a little skeptical of what the quality would be like. But, being under the truck, all that mattered to me was rust prevention. Turns out he did a damn good job on them. The coating is nice and thick, no imperfections that I can find, and he even got all the way up inside the boxed ends of the crossmember which I wasn't expecting.
The pictures do NOT do justice: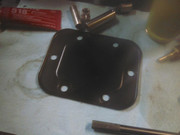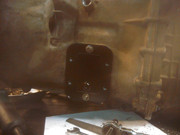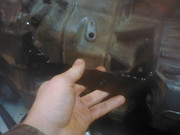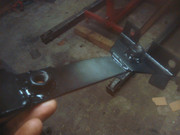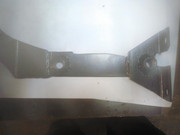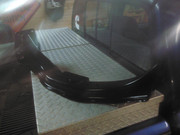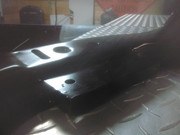 I highly recommend Spokane Wrought Iron for blasting and powdercoat, and I know where I will be taking my stuff for that from now on. The only caveat is they didn't seem to be able to process cards, so make sure you have cash on hand by the time your parts are done. Enver was cool about me running to the bank after we had already loaded up the parts, but I'll be more prepared next time.