We have sold over 100 Huspower Mufflers here on CF, and not one dissatisfied customer. The fact still remains that this beauty of a muffler is quite expensive, and does not fit everyone's program.
FTE Diesel now has a new style of resonator / muffler for the cummins powered ram. This unit is available in 4" and 5" and is affordable. We have tested this unit on 3 trucks so far....
2005 CR with 5" Straight Pipe
2001 24V with 4" Straight To Stacks
1997 12V with 4" to single 7" Stack
All test trucks had a drone at highway cruise speed, this was the target. The 2005 CR was a customer living in an apartment complex who has upset neighbors.
One of the biggest issues with resonators is that they commonly use a batting material to deaden sound, as exhaust heat flows through them that material breaks down over time and the effectiveness is reduced / lost.
Our new designed resonator is a solid piece, it uses a corkscrew design which passes half of the exhaust straight through and the other half around the screw (twice the distance). No degregation of performance over time since this piece is made of steel and no Batting or fluff is used. There is very little backpressure, no significant egt gain, and the noise cancellation properties are awesome. It is not the
Hushpower muffler
, but it is the next best thing.
Easy install, eliminates drone
Fits any system, 5" Diameter with 12" Body
Solid 14 Gauge Aluminized Construction
Inexpensive compared to other options
In the test trucks above, all customers gladly paid retail after the tests. The Apartment neighbors claimed that the idle and warm up period of said customers truck was greatly improved once this unit was installed. Performance and Cummins Tone were still totally available.
Bottom line, if your on a budget or too cool to install a muffler FTE Diesel is looking for cost effective solutions to improve your ownership experience of your Cummins Powered Truck. :thumbsup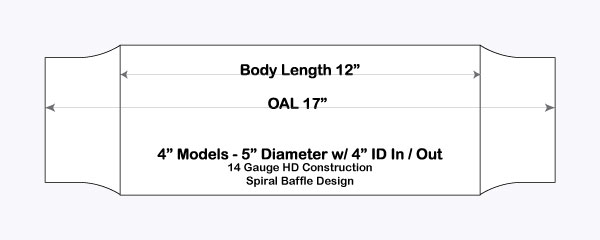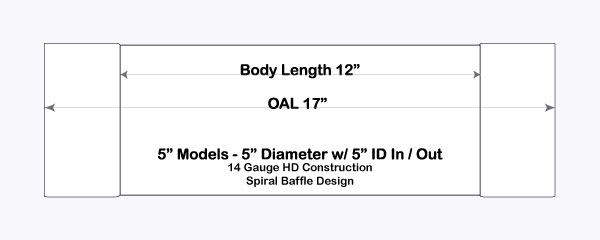 In case anyone was trying to choose between an Aeroturbine or the FTE Resonator.... This post just came in a few days ago and It's better than we expected.

Aeroturbine Vs. FTE Resonator Results.....
__________________
Very Interesting Read on Sound Control Combinations at Powerstroke Nation
Most Quiet Muffler at PSN