2009 Midwest SRT Nationals
Hosted by
Realtune Performance
What:
Midwest SRT National Event
Where:
When:
June 13/14, 2009 (Please see below for event times)
Who:
All SRT Vehicles, Modern Mopars 85'-Up and established forum members.
Includes: K Platform, Turbo Mini Vans, Daytonas, Neons, Lasers, Trucks, Modern Chryslers, Modern Jeeps, Modern Plymouths, etc.
Why:
T-Shirt, Plaques, Payouts, Fun and Friends!​
Details:
Once again, on behalf of Realtune Performance and NEOH SRTs, we would like to host for you enthusiasts the 2009 Midwest SRT Nationals. This year the Midwest Nats, open to all SRTs with all modern Mopars invited as special guests, will take place around the Medina / West Salem Ohio area where dyno, track and accommodation facilities are available for use within 30mins of each other. Be sure to attend and participate as there will be a host of super shiny, record-breaking, dyno raging cars there!
Please keep checking back for new updated information!
If you would like to discuss this event, please go to the
Midwest Nationals discussion thread - SRT Forums - SRT4, SRT6, SRT8, SRT10 & Dodge Forum
here. All other posts will be deleted.
DRAG EVENT – Held 6/13/09 @ Dragway 42
PRICE IS $65 per car.
We will have the track from 9am to 4pm. Gates will open about an hour before and after the event. Awards will be handed out after the event.
If time permits at the end of the day, we will run open track to all that have registered for the track.
Concessions will be available at the track.
3 Classes available:
Street – Only street tire (including drag radial) cars will run in this class.
Stock Turbo – Stock turbo SRT-4s only. No modifications to the turbo itself will be allowed.
Open – Everything else goes in this class.​
Awards
:
Plaques will be handed out to the top of each class as well as Fastest MPH and Best 60'. There will also be a payout for the top of each class. Amount to be determined. Stay tuned for more information!
Spectator's Fee:
Due to a large request of people wanting to attend and just watch, we are kindly asking for a small $5 fee per person for spectators who are not racing. Kids under the age of 12 are free! You may either pay at the gate or submit a payment via PayPal. If you are going to pay via PayPal,
YOU MUST SHOW YOUR PAYPAL RECEIPT AT THE GATE TO THE ATTENDANT
. Please know and understand we are doing this so we can bring you some of the best racing around the region! There are going to be even more high horsepower cars, with world record busting times than we had originally planned!
This is going to be one hell of an event, so don't miss out!
DYNO EVENT – Held 6/14/09 @ Backstreet Performance
PRICE IS $45 per car. ONLY 20 SPOTS LEFT.
The type of dyno used will be a Dynojet. Included with the dyno will be 3 pulls with an SAE corrected dyno sheet and AFRs. No tuning will be allowed while on the dyno. We will also provide hamburgers, hotdogs and buns for you, but we ask if you could contribute a bag of chips, pretzels, veggie tray, etc, which would be GREATLY appreciated.
Awards
:
Awards will be given out for Highest HP and Highest Torque.
***NOTE: COMBINED PRICE FOR REGISTERING FOR BOTH TRACK & DYNO EVENTS IS $100.***​
SHOW EVENT – Held 6/13/09 @ Dragway
FREE IF REGISTERED FOR TRACK OR DYNO EVENTS!
$10 for show only
Judges will be viewing the cars before the track event starts. If you are part of the show event, you must show up early to have your car judged. Awards will be handed out at the end of the track event.
Awards
:
Judges will be wandering around looking for:
• Best Exterior
• Best Interior
• Best Engine Bay.
T-Shirts
FREE WITH AN EVENT REGISTRATION!
A shirt has been included with your registration. The shirt was designed by Wiggyx and will be available in WHITE or DARK GREY. Color choice and size is on a 1st come 1st serve basis. There will also be extra shirts available for purchase at $10ea.
PAY FOR EXTRA SHIRTS AT TRACK AND/OR DYNO EVENTS!!!
Room Accommodations
WE HAVE BOOKED SOME ROOMS IN ADVANCE TO HELP KEEP HOTEL COSTS DOWN FOR YOU.
:informati**PLEASE READ CAREFULLY AS SIGN-UP FORMAT IS VERY IMPORTANT!**
:informati
Payment and sign-up information needs to be sent via Paypal to
[email protected]
. Please put your sign-up information in the email section of the "Send Money" form on Paypal.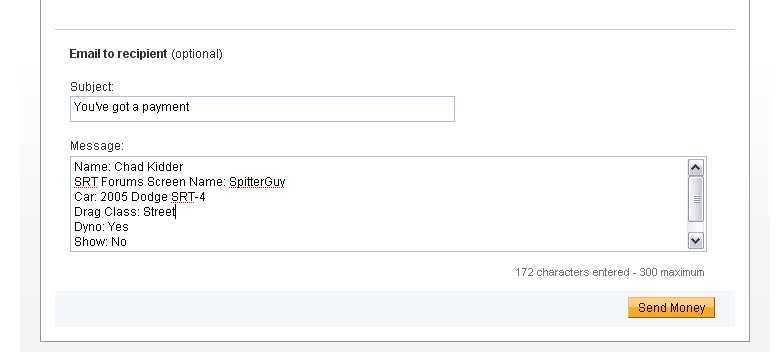 If you cannot use Paypal, please PM me (Chad / SpitterGuy) to make arrangements. Your name, status and events will be posted up below within a few days of submitting payment as confirmation and information.
The following format needs to be used when signing up:
Name: (First, Last)
SRT Forums Screen Name: (Leave blank if not from the forums)
Car: (Year / Make / Model)
Drag Class: (Open, Street, Stock Turbo, None)
Dyno: Yes/No
Show: Yes/No
Shirt Size: (XS, S, M, L, XL, XXL) (For info purposes only)​
Please follow the above format. Not following the above format will only delay
YOUR
sign-up process. :readclose