Welcome to the build thread of
Megatron
. The basic plan is to make a push to compete in the 2015 Diesel Power Challenge after falling short in the voting for 2014. My previous attempt sported 850whp in a truck designed to do most anything. This time around the truck will be well north of 900, might chase 1000, but that's getting ahead of myself. The goals for this build will be consistency, which means a suspension setup that focuses on traction and functionality instead of bling. The suspension will be bolstered with the likes of Thuren, Carli, and a little magic from Fox Shocks. This year, I will again be using compounds to get to my goal. The plan is to up both existing turbos to larger billet wheeled versions. I will continue the usage of Borg Warner chargers. With the added air, I'll be going to at least 75% over nozzles, although burning clean is one of my main concerns. Overall, the truck will be similar to last years version, but turned to 11. With some solid planning, and little cunning I look to be on top. Here's to beating Optimus Prime, and his hard charging setup!
Here's what's currently installed:
Performance:
Industrial Injection 62/475 Phatshaft Compounds
Industrial Injection 125hp Nozzles
ATS Dual Fuelers
Airdog II DF-165gph Lift Pump
Hamilton 110lb Valve Springs
A1 Technologies H11 Head Studs
Banks Technicooler with 3.5" Boost Tubes and Intake Horn
EFI Live by Anarchy
Exhaust:
MBRP 5" Stainless Steel Axle Dump System
MBRP 5" Muffler
FTE 30" Resonator
MBRP 5x6x18 Black Tip
Transmission:
ATS 5 Star Torque Convertor
Billet Input Shaft
Billet Output Shaft
Red Alto Clutches
Kolene Steels
Billet Struts, Accumulator, etc.
Racing Valvebody
ATS Deep Pan
ATS CoPilot
Exterior:
SRT-10 Hood
Colormatched Plastics
Tailgate Cap/Spoiler
Truxedo Lo Pro QT
Wheels
Fuel Hostage 20x10 -24 in Matte Black
Toyo Open Country AT II 275/65/20 (34")
Suspension
Daystar 2" Level Kit
Bilstein 5100 Series Shocks
Flight Fabrications Ladder Bars
Project: RELAPSE
Engine Upgrades
Coat Pistons
Carillo Rods
Hamilton Extreme Duty Pushrods
Fluidampr
ARP Rocker Studs
ARP Main Studs
Hamilton 188-220 Camshaft
Fleece Coolant Bypass
Fueling Upgrades
Exergy 100% Over Injectors
ARP Injector Stud Kit
Induction Upgrades
Something wastegated.
:creep:
Miscellaneous Upgrades
Flex-A-Lite Electric Fans
Boost Activated Multi Stage Methanol
Exterior Upgrades
Clearance and Shave Front Fenders
Paint Front and Rear Bumpers
ALL WHITE ERRYTHANG.
Interior Upgrades
Suede Headliner
Katzkins Leather Interior
Hydrodip Plastics
Suspension Upgrades
Carli Track Bar
Thuren 2" Lift Coils
Fox 2.0 Resi Shocks with CD Adjusters
Synergy Steering Box Brace
Flight Fabrications Limit Straps
Flight Fabrications Ladder Bars
Current Look: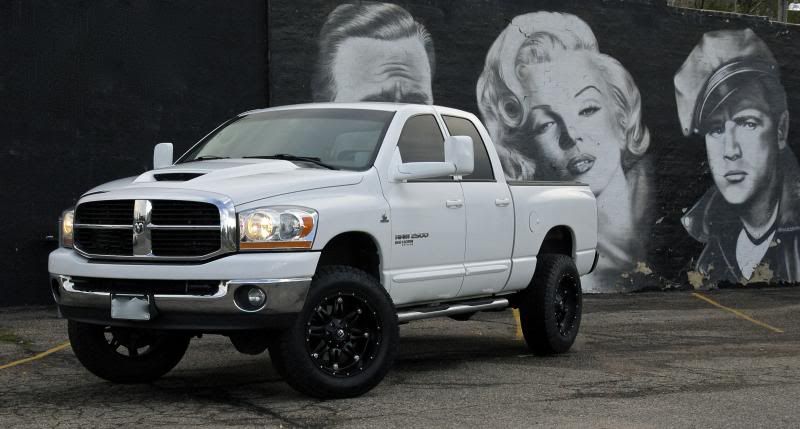 Post Links:
Finshed Engine Bay Shots