Discussion Starter
·
#1
·
Well despite what the title says my truck is okay, Last snow storm an 18 wheeler came over my side of the road and smashed my bed, tailgate and taillight. My bed was pretty beat to begin with and now the drivers side is practically falling off.
Bed's Toast no way around it. So i will need to replace it as soon as the insurance pays out.
Now I would like a few opinions/ feedback on what i should do. I use the truck for towing, snow plowing, and wood hauling. I used to have a 9ft Dump insert inside but i have since removed. (Stock springs weren't strong enough)
1). Buy a used Box
These aren't very common to find but they are around. Costs ~300-600$
From what I see they look the best and are functional, but Unlike my old chevys (bolted together very strong) they are bonded and spot welded and seem kinda flimsy.
2). Iron/Steel flat bed These are probably the most use full and cost anywhere from ~600-2,500$. Probably the most useful, easy to modify, heavy and strong. Would aide in snow traction also would shrug off fender benders that would destroy a box.
3. Alloy/Aluminum These seem to be pretty common now, They are light and not to pricey ~2,000$ They are stronger than beds, but they aren't as easy to modify as an iron bed.
4.) Dumping alloy/iron flat bed. These are pretty cool i like having a dumper. These are expensive ~5,000 dollar range for the alloy ones. I'm assuming these would prevent me from ever adding a goose neck or 5th wheel hitch at some point.
5.) I could fab up a iron bed and maybe steal the hyrdos from my dumper but I dont have time for that. The fact that theres 4ft of snow on the ground isnt helping either :doh: Hasn't stoped snowing for 4 weeks for Frigs sakes...
I know only I can make the final decision and make up my mind but im pretty clueless as to what i want. I figured you guys would love to help out and spend someone Else's money. :rof
Anyways here's the carnage...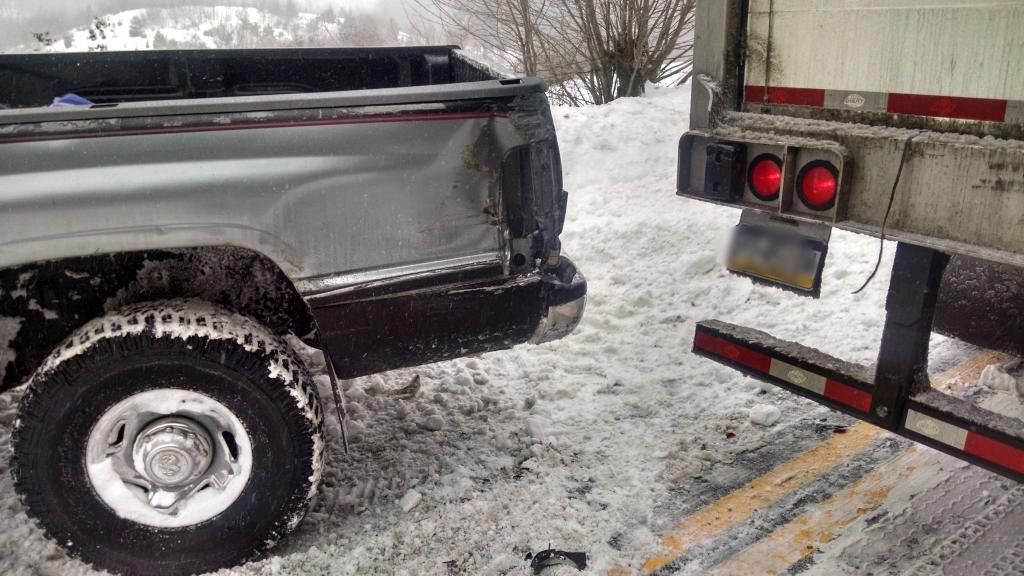 Could have been worse, good thing i drove off the road or that #%$$%^ could have totaled my truck or hurt me :buttkick: