Discussion Starter
•
#1
•
I don't know if this was ever posted before, since it didn't come up in a forum search by the part number (BKCDK651). When I was browsing Amazon the other day for something totally unrelated to automotive, they popped up this suggested item that immediately grabbed my attention:
https://www.amazon.com/gp/product/B01C0J7EMA/ref=oh_aui_detailpage_o02_s00?ie=UTF8&psc=1
Yup, the holy grail of later 3rd gen head unit installs...a double DIN bezel with an integrated cubby...and the outer flange covers the "Mickey Mouse" ears left over by the factory's basic radio knobs. Blah, blah, blah Weedahoe, factory NAV bezel, etc. For under $18, it solves the big problem why I never upgraded the OEM stereo (losing the cubby), and even comes with a disposable cutting template to show exactly how much must be removed from the factory bezel so that this one fits in the hole: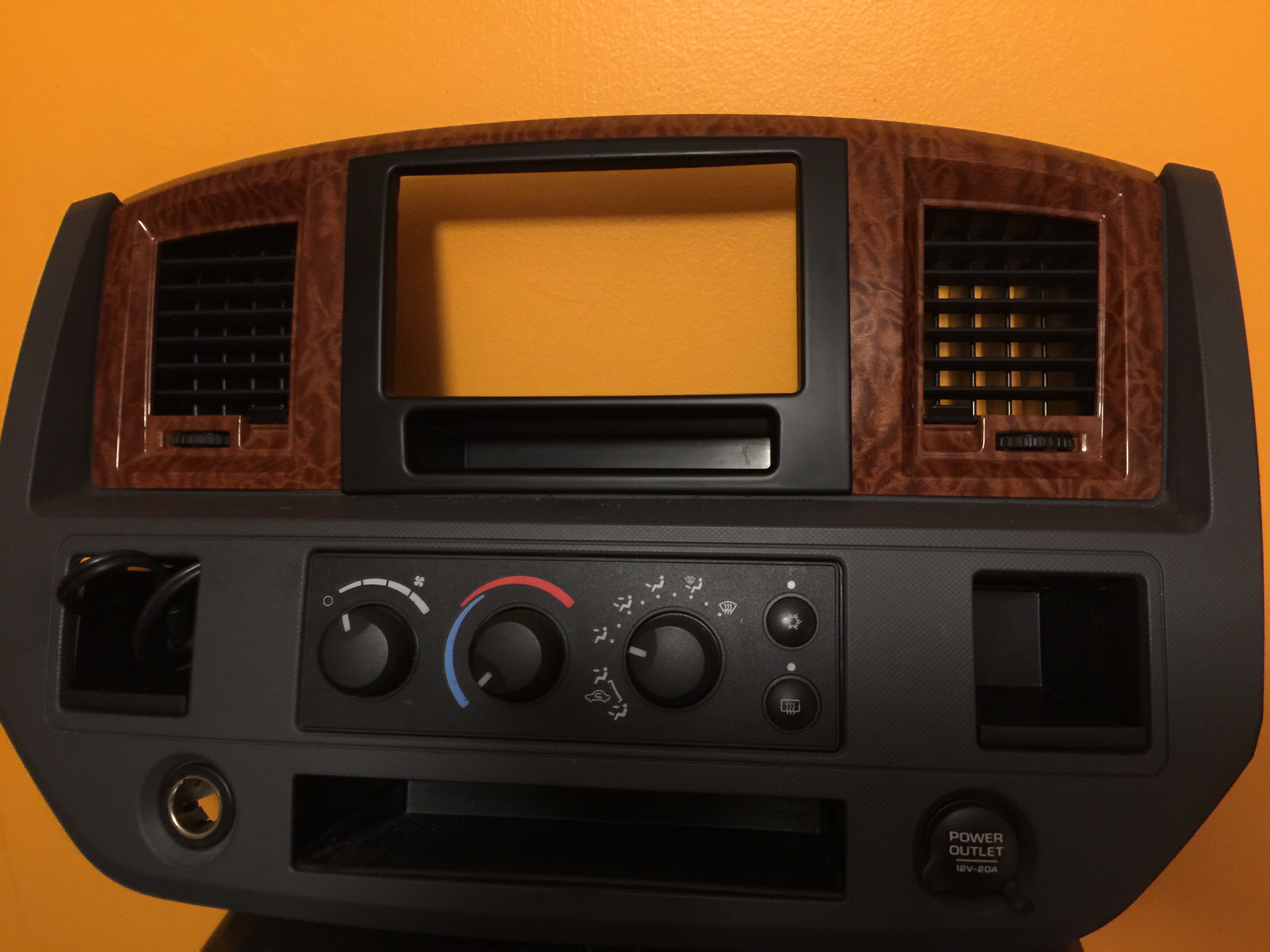 I still don't have it sitting 100% square yet, and snapped the thin top bar test-forcing it into place. Since I bought this bezel to butcher up testing some installation ideas that I have, I was already planning to order another one. I still have a bit of trimming to do, and am waiting for my cordless Dremel to recharge for the third time so that I can finish.
Regarding the test installation ideas, one thing that I'm considering is knocking a small hole through the back of the new cubby, which will hold a fixed-mount Apple Lightning cable so that I can just slide my iPhone in bottom end first and it will automatically plug in. (I loathe plugs and loose cables!) Another thing that I'm contemplating is hacking up a wireless charger and mounting the inductive coils under the cubby to wirelessly charge an iPhone X should I decide to get one. I may also permanently mount A/V connectors and a few powered USB charging ports through the back of the cubby, in case I ever need to run a portable video player or something.
My next decision is what to do about the 1970's faux wood trim on the OEM bezel. I am the world's crappiest spray painter, and there are a few intricate details by the finger knobs in the air vents that I do not believe will vinyl wrap well. I was contemplating flat black Plasti Dip, which would blend with the new radio bezel. Looking at the above picture, I'm thinking that dark gray may be the way to go. I am not a fan of light colors on the dashboard due to the effect they have on my vision during the day, so silver and gloss colors are off the table. I like how the new radio bezel is an extension of the black panel holding the heater knobs, which is why I'm leaning towards dark gray over the faux wood. It should also work good on the faux wood door accents, since the 1970's are also looking to get those pieces back.
I'll post more pictures when my new head unit arrives on Tuesday. Alpine iLX-107 with wireless Apple CarPlay, in case anyone was curious.....