Allright Fellas I Just installed Arp head studs, Hamilton Valve Springs and some new DDP 110 hp injector tips this write up is going to be long and extensive but should help any of you wanting to to this type of project...
First of all Time line.. I would venture to guess you could do this all in a weekend with a few beer breaks...lol.. I was super anal about this so I took my time and did it over the extent of two weeks in the evenings and sometimes not even working on it...
Items your goona need before you even start...
Black magic Marker
Extra ARP stud lube.
Magnetic extension
Magnetic Tray
A very clean work bench or as in my case two saw horses with a 4x8 sheet of plywood
Mechanics gloves (not a must but shure helped)
Blue medical gloves (also not a much but I wish I would have gotten some) the blue ones are heavier and wont tear so easily..
A note pad for taking notes..(i have a shoooort memory!!!!)
a Telescoping mirror or atleast a mirror to see springs in the number six position...
Cummins barring tool (optional but makes like soooo much easier)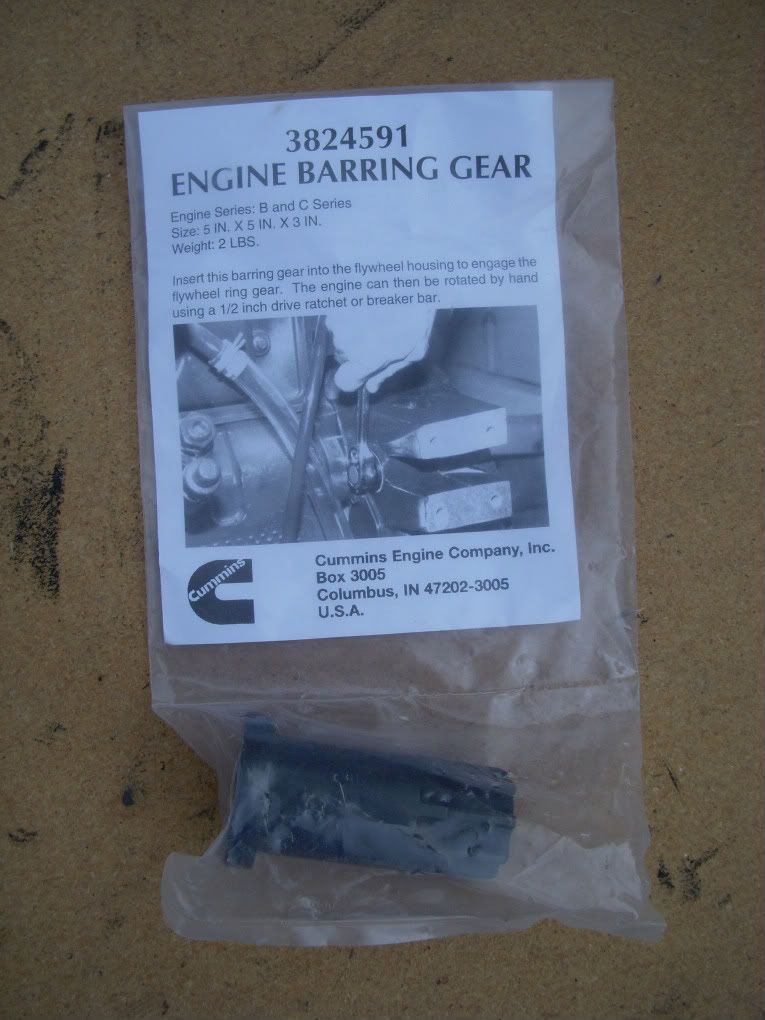 Spring Compressor tool (miller tools has one also sourceautomotive has one!!)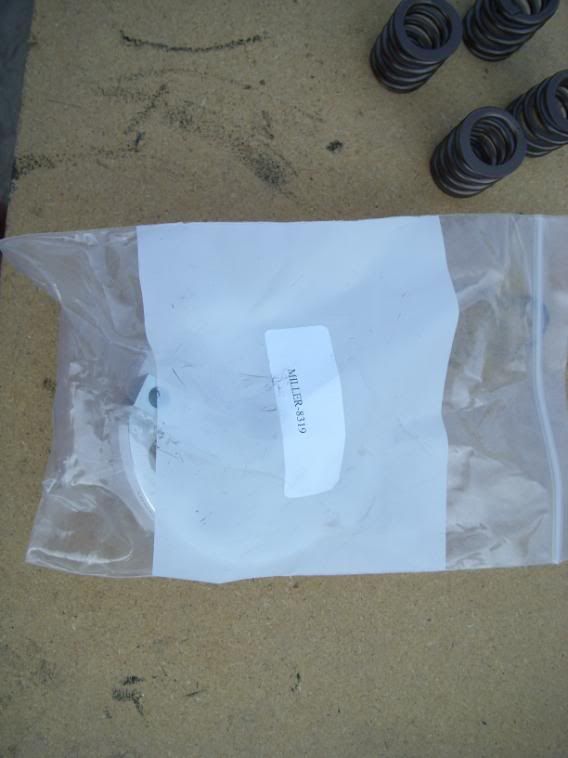 Feeler guage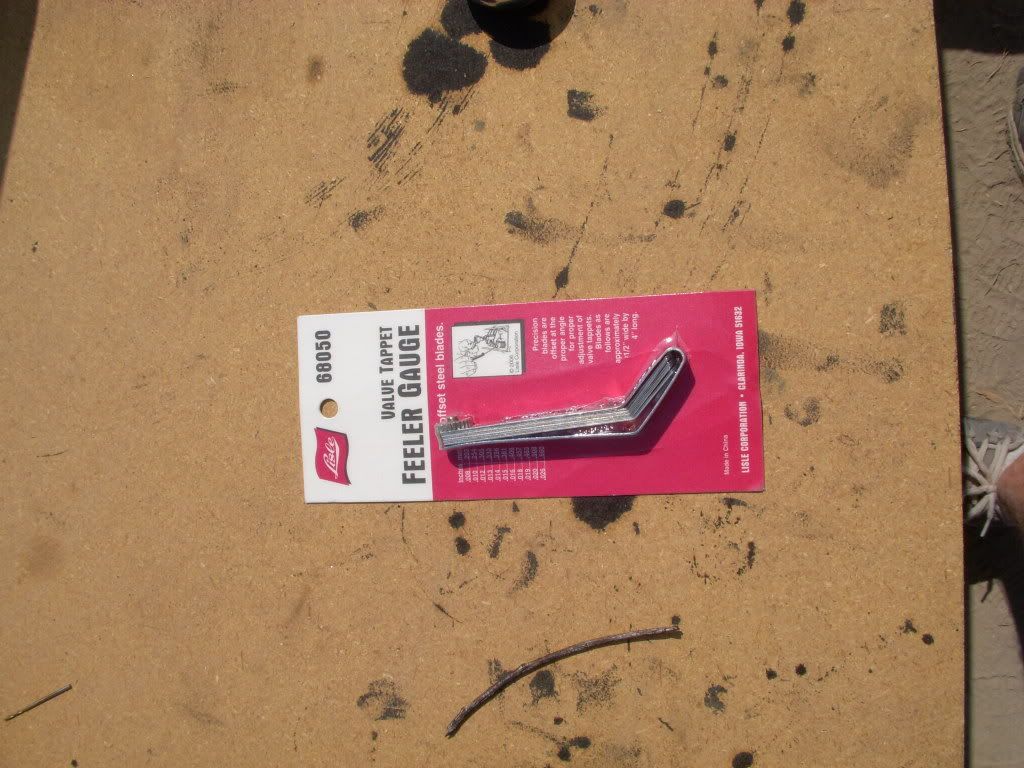 Inch pound tq wrench
Ft pound tq wrench
Screw Driver set along with Tq bit set
Box of Zip loc bags!! ( i will explain this later)
Camera to take pics in case you forget something...
Step ladder
CELL PHONE!!! (if your goona do these mods pm me and I will give you my cell phone number and if you have questions I will gladly help out!!)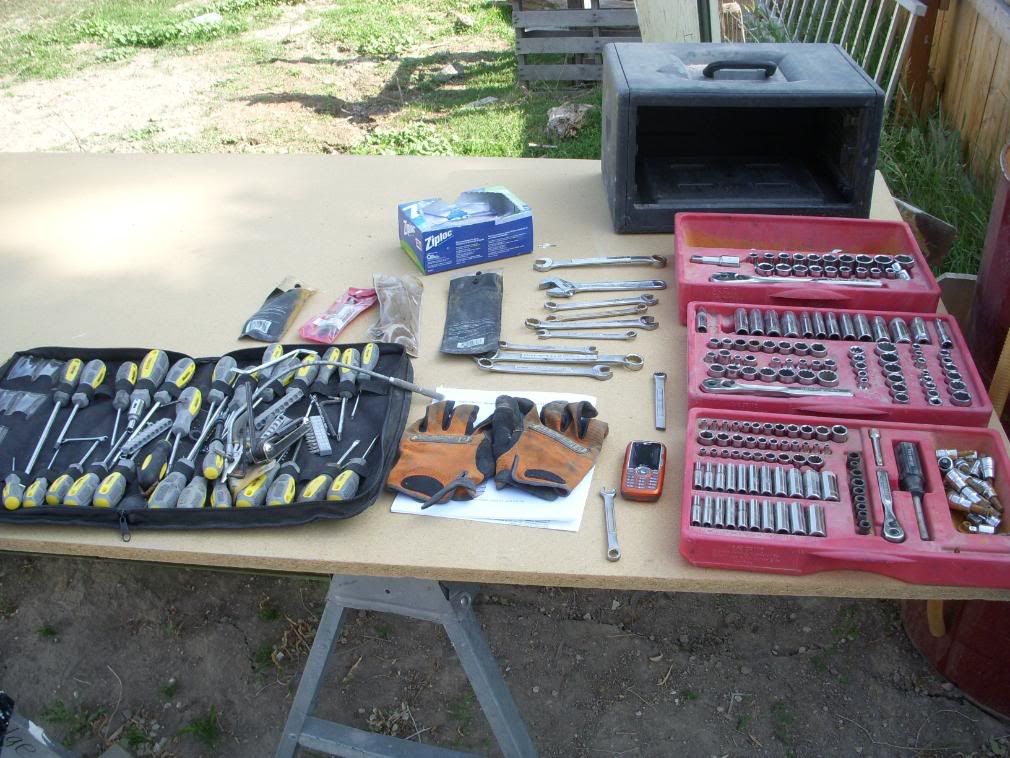 Allright first step for me was to get a good clean work area... I have no shop or access to a shop so I did all this in my driveway at home... So for a work bench I used two heavy duty saw horses and a 4x8 sheet of plywood. From there I laid out all my tools..
First thing I did was parked my truck on flat ground.. Blocked all four tires and set the emergency brake. From there I disconnected both batteries using the 1/2 wrench.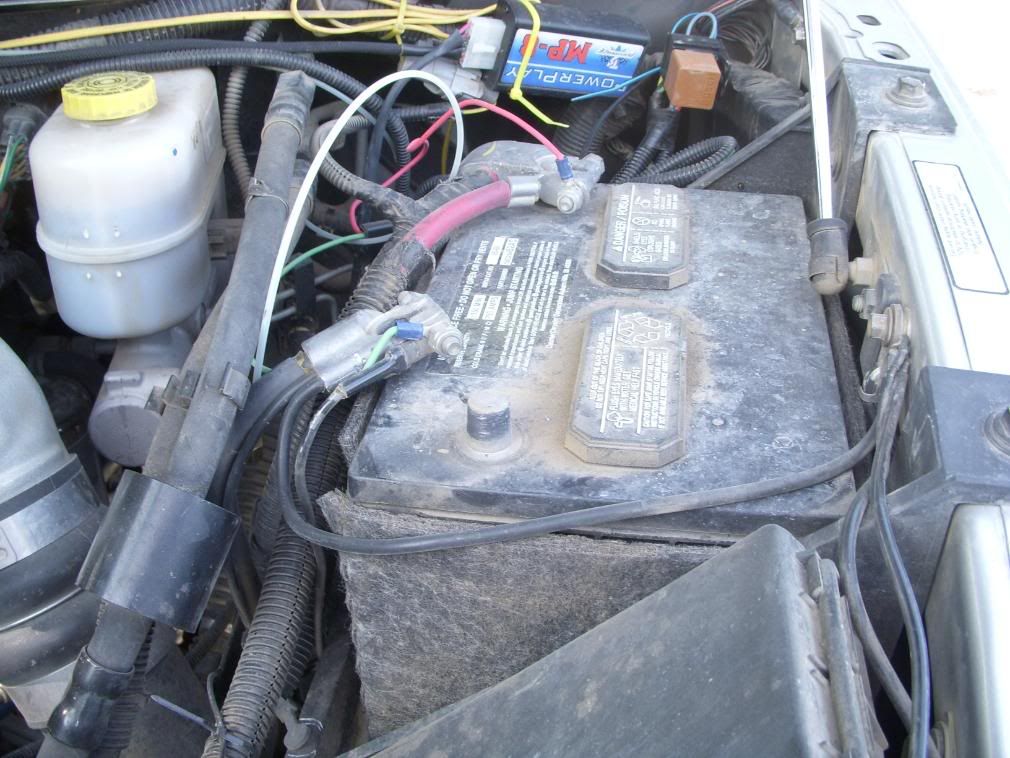 Next I removed the six 10 mm bolts holding the plastic valve cover on..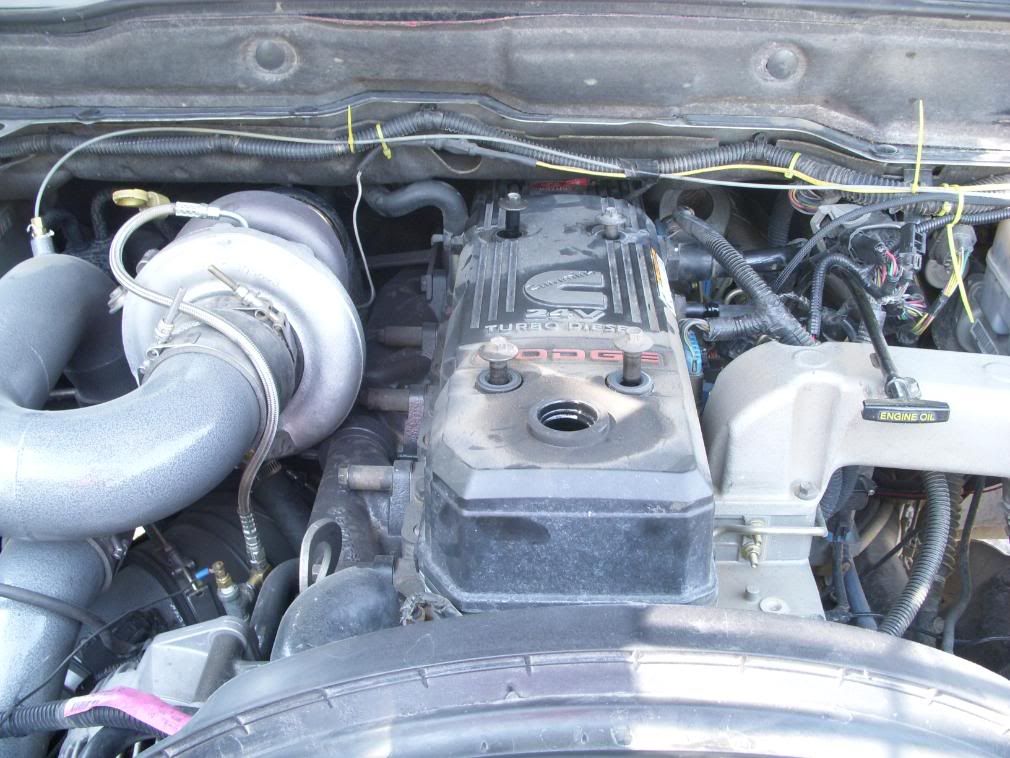 From there I removed the 11 mm clamp holding the intake on.. Then I completely unbolted the intake horn and grid off the motor. Then I removed the 10 mm bolts holding the Intake, dipstick and wiring on the back side of the intke... I then laid the wiring off to the side and completely removed the intake.. I took my black magic marker and marked the front of the intake grid and the gaskets, marking which one was top and bottom and front on each one..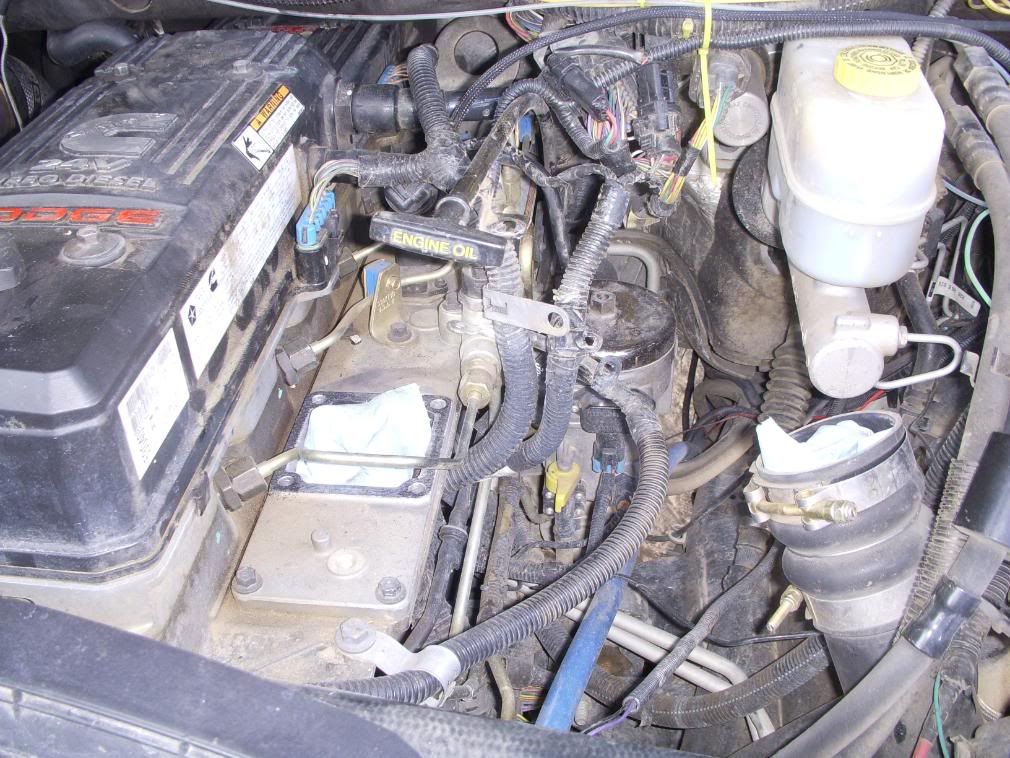 Once I had the intake out of the way and wiring removed I lifted the plastic valve cover off the motor. This will now expose your Rockers, injectors, and springs along with stock head studs.
I cleaned all the injector wiring harness and took my notepad out and wrote down the wiring sequence on the injectors. Although not necessary because the wiring is all on e big harnesss I did it just to be safe and took pics of each injector with the wiring installed. Injectors 1 and 4 will have the same color code as does 2 and 5 and 3 and 6 likewise...
1 and 4 were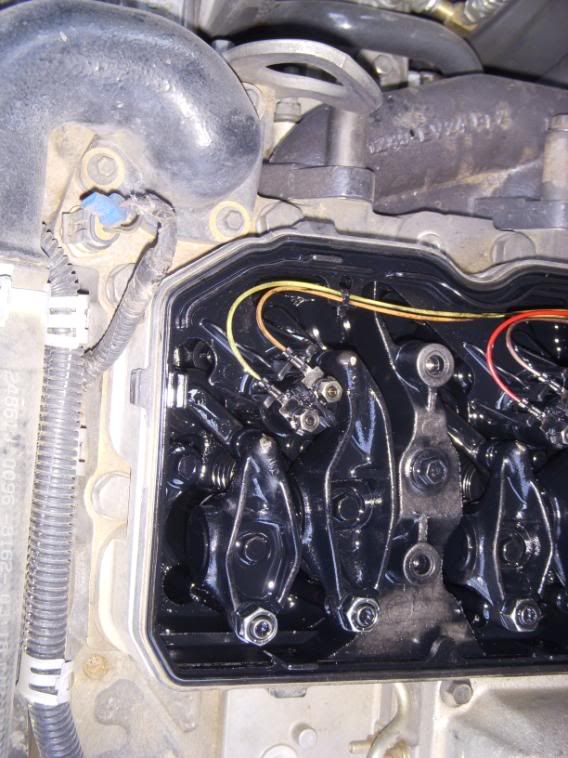 Yellow Right orange left
2 and 5 were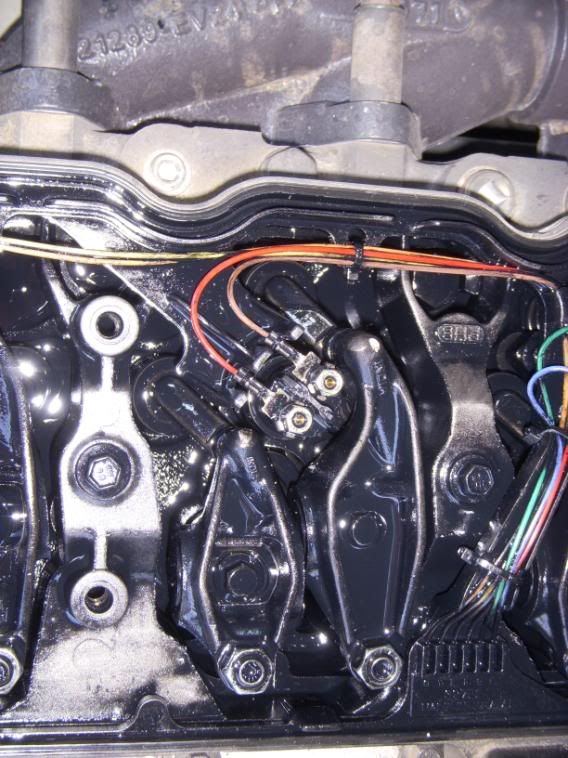 Red Right Brown left
3 and six were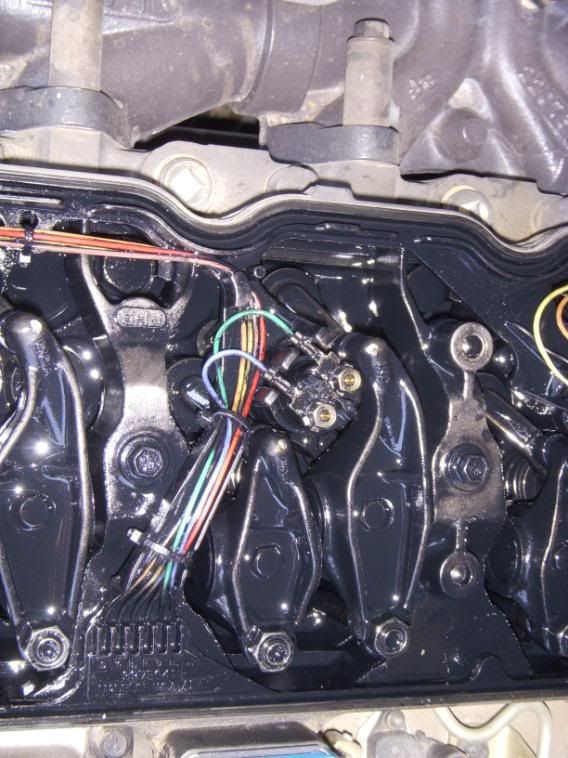 Blue right green left.
Then I removed the 8mm injector wires of each injector.. Next I removed the factory wiring harness that plugs into the injector harness that sits just below the plastic valve cover. I then laid them to the right hand side of the motor compartment out of the way of any harm. Then remove the Injector fuel wiring assembly just a pull on the front corner will loosen it and lift it up out of the way. I placed mine in a large clean garbage bag and sealed it off to keep it clean as well as the valve cover.
Next you will have to remove 7 10 mm bolts holding the riser box down.. This is where the ziploc bags come into place... I numbered my motor compartment starting from the front going to the back... The front being one and the back geing six.. So when I removed items from cylinder 1 they were marked 1 etc... Sooo when I removed each 10 mm bolt off of the riser box it was labeled where it came from and put in a ziploc baggie so that it would go back in it's original space.. ( not sure how crucial it is but better to be safe than sorry)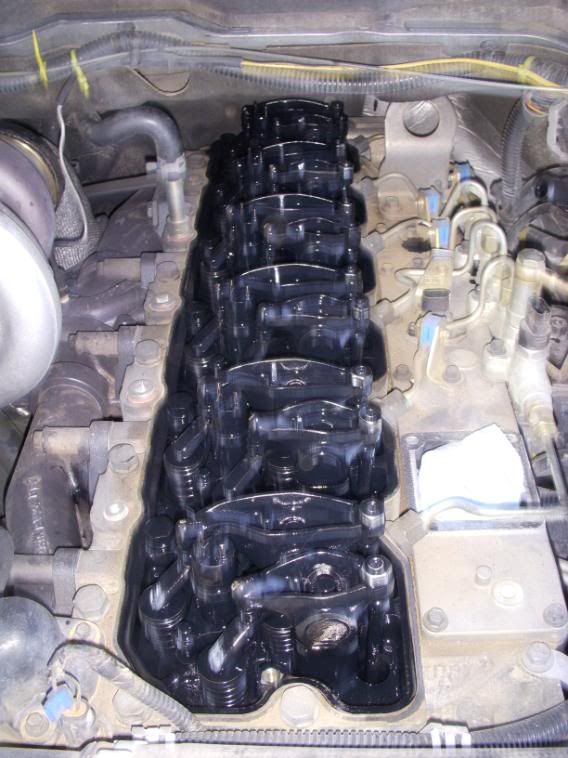 Then I removed the Rocker assembly's completely as I planned on doing springs so it was a must.. Again I marked my ziploc bags 1-6 for each part taken off of each cylinder..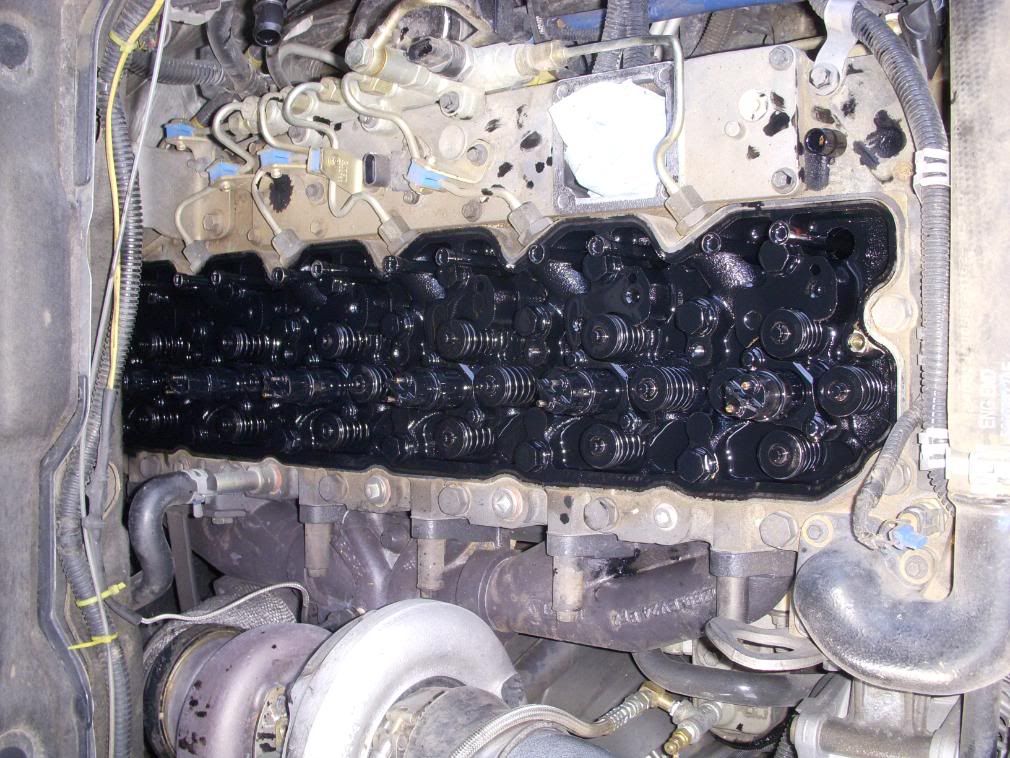 Next I removed the whole fuel assembly to open up room to work and it just made life simple.. First step was to disconnect the fuel rail supply completely there is a nut just under the fuel assembly that is all it takes and gently bend the line out of the way..
Next disconnect the 19mm fuel connection lines that go to the connector tubes all six of them. To get to number six you will have to remove the factory "motor hook" that is just in front of injector tube number six once I removed mine it stayed off. You can put it back on if you want but it was a pain in the arse so It's in my tool bin. If for some reason I have to pull the motor I know where it's at. Now gently move each connector tube out of the way
Then I removed the 10 mm fuel assembly hold down nuts I think there is five of em... Sorry can't remmeber at the moment...lol Once these were removed You just lift up on the whole fuel rail and it comes out.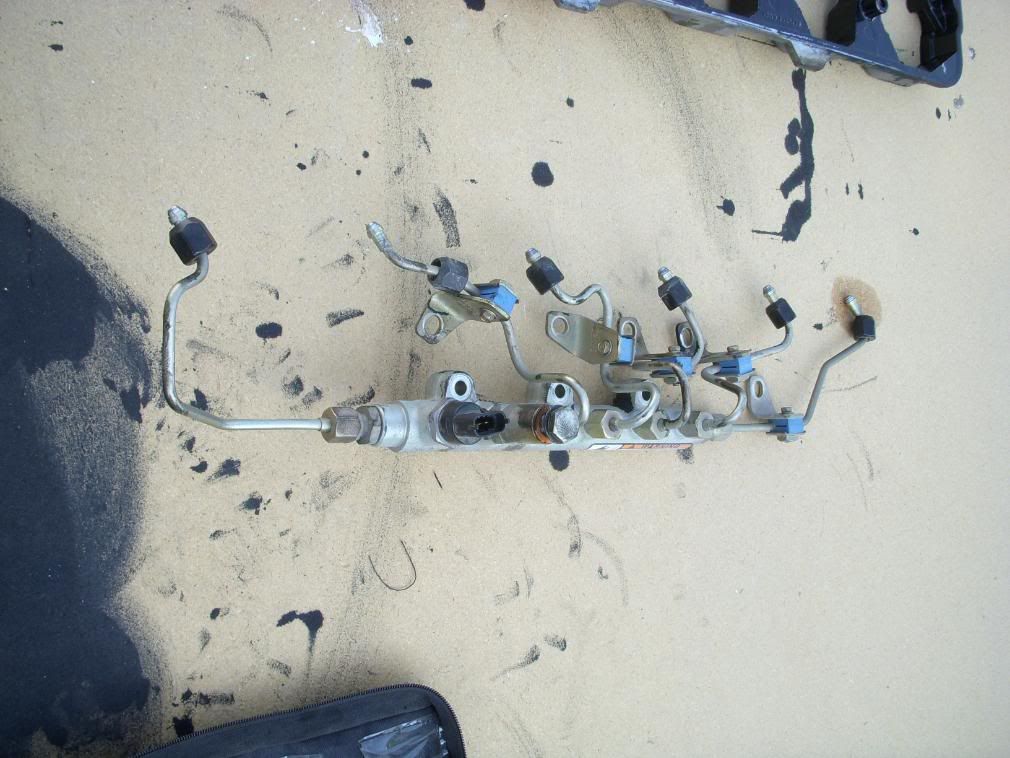 Next remove the map sensor from the intake with a T15 Torx bit and set it in a baggie.
Next to remove the injectors you have to remove the connector tubes. These are what your fuel lines were connected to.
This will require a 24 mm nut that holds down the connector tubes. again I had plastic baggies labeled injecter 1-6 and stating connector tubes. once you have the nut that holds the connector tube off ( make sure you have gloves on the threads are super sharp) you grab the connector tube and wiggle in an outward motion and they should just pop right out..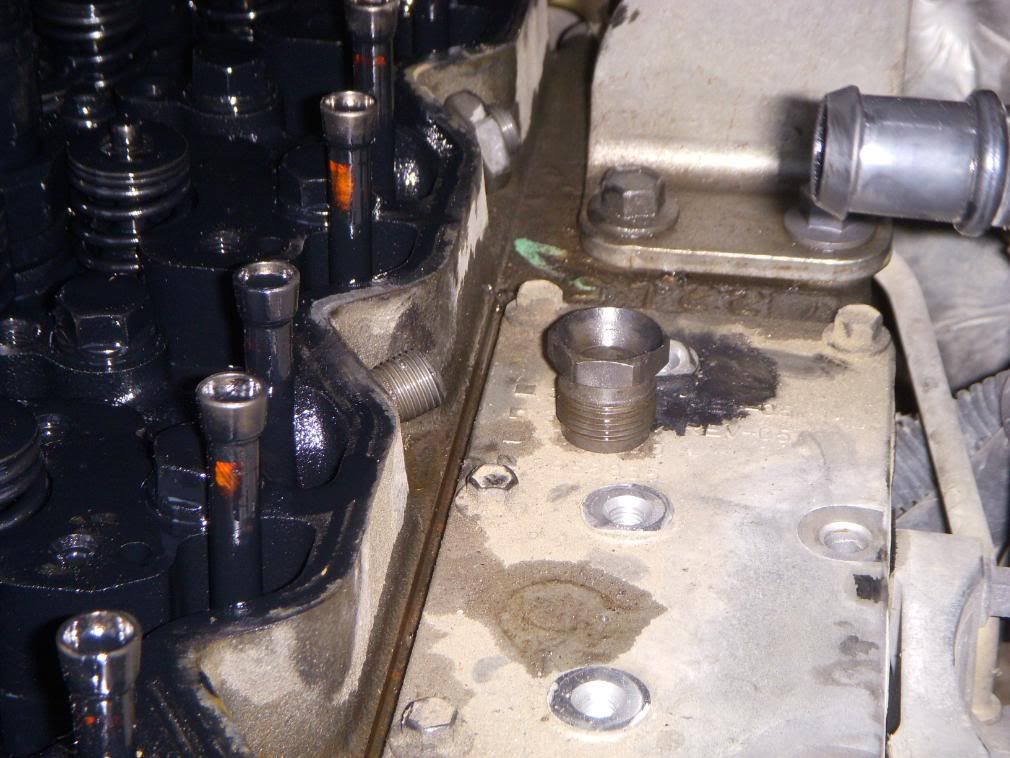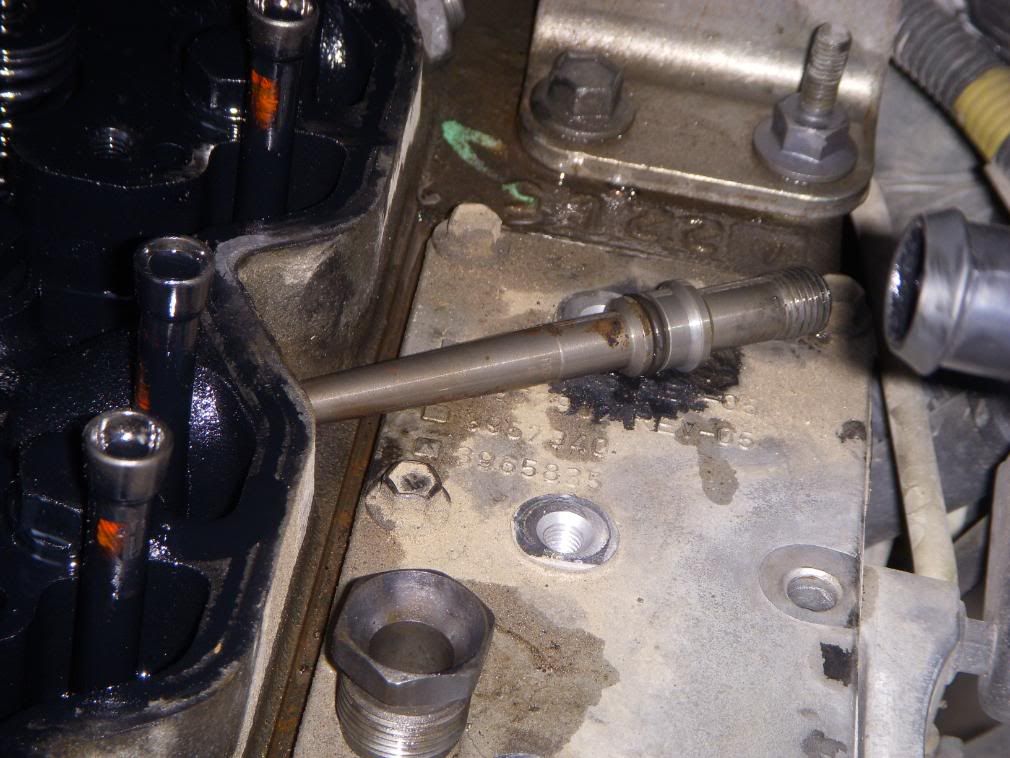 Now its time to remove the injectors...
Each injector has two 8 mm bolts that hold it into place... I removed the two bolts from each injector and placed them into a baggie that was labeled injector 1-6 bolts... Obviously a bag for each injector had two bolts in it..
Once the bolts were off I was able to pull the first three injectors out by hand.. the last three I had to use a screw driver and pryed just a little and they popped right out.. After each injector is removed MAKE SURE THE COPPER WASHER COMES OUT TOO!! I then placed each injector in it's properly labeled baggie to later change the tips out!!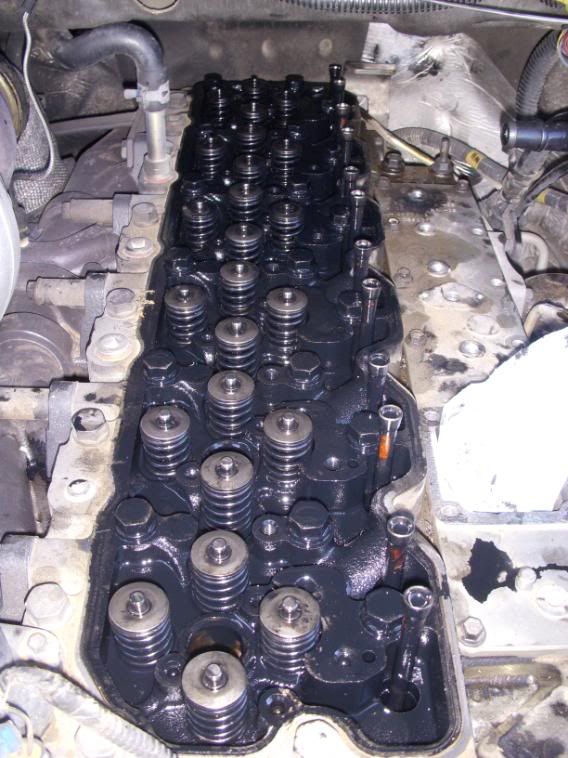 I had some super heavy duty paper towels (the blue ones) and i tore them in fourths and then rolled them up into neat cigar like shapes and put them into the injector bore holes to keep any debree from falling into the hole.
STUDS
There are 26 studs that come in the arp box 6 longer and the rest are the same the six longer go on the outside of the valve cover in the exhaust position's. Left hand side of the motor. The rest go inside the valve cover and in the next pic you will see the hex heads sticking up next to the stock springs..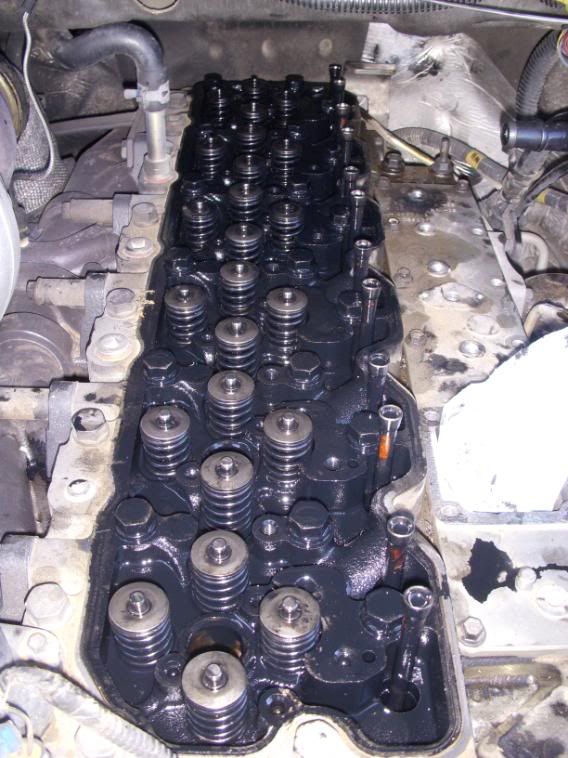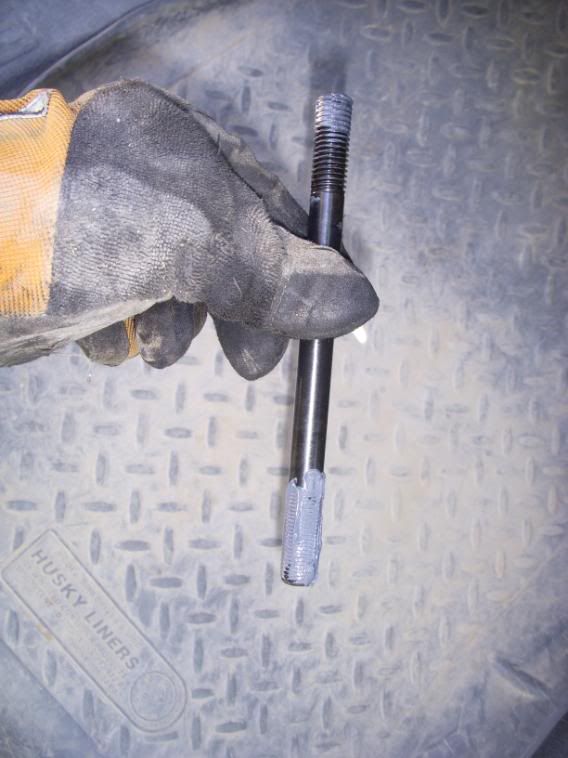 Following arp's instructions I started in the center of the motor and the number three cylinder and worked in a clock wise motion taking one head stud out and replacing the factory one with an arp head stud after installing it to a hand tightened position I then installed the arp nut and torqued each one down at 90 ft lbs.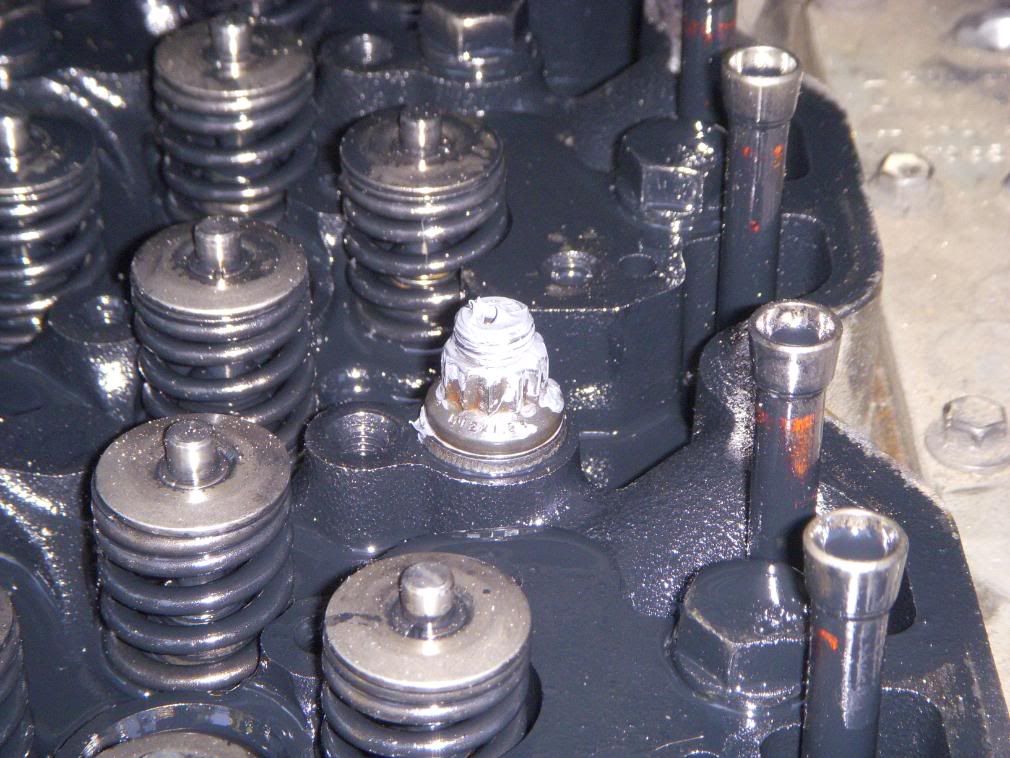 after a sweat filled two hours i had them all removed and torqued down to 90 ft lbs.. Once that was done I then went back in and retorqued them at 110 ft lbs and then two more times at 135 ft lbs of torque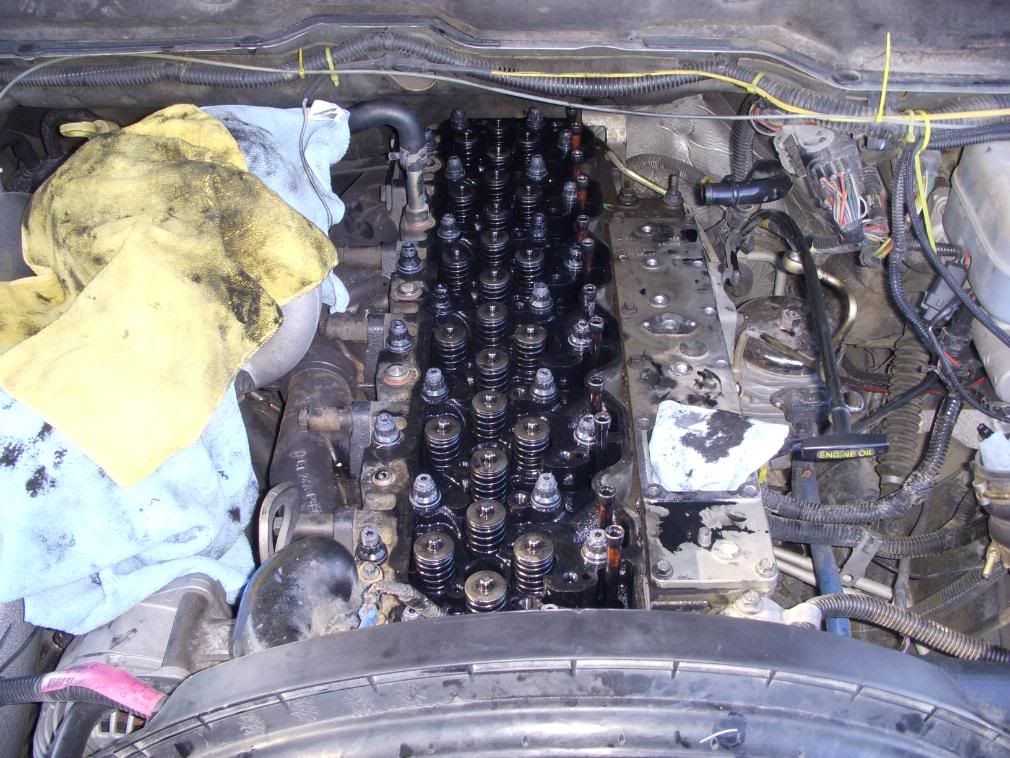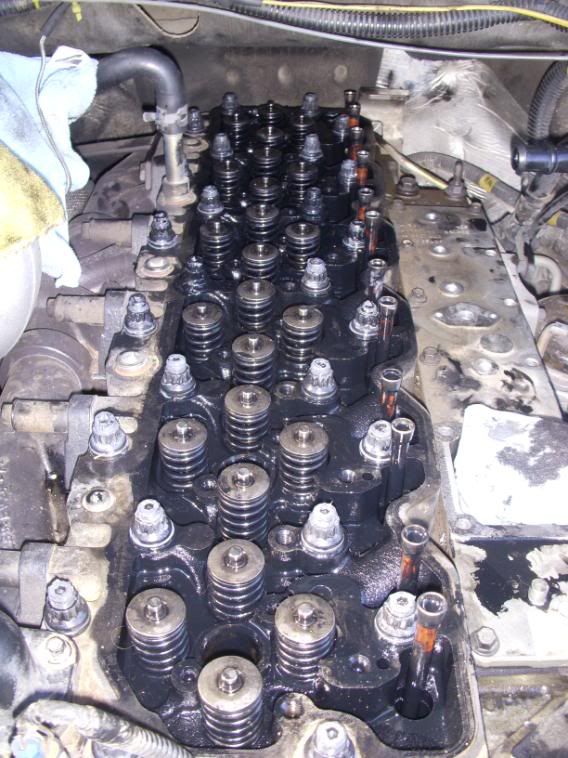 Now your head is studded and ready for boost!!!