Drill and tap the top of the injection pump banjo bolt to 1/8'' pipe
thread, then install a male x female 1/8'' needle valve with 1/8'' tubing
compression fitting in it. Boost gauge or oil pressure tubing pushed
though some 1/4'' tubing to protect against cuts and kinks to the gauge.
For a 12 valve the gauge must be at least 40 psi, 60 psi is best. The gauge can say boost, air, water, fuel or nothing on it,
they will all work excellent.
Use no Teflon tape, it doesn't work with diesel.
Instead use anti-seize or Permatex #2. Remember you are
working on the clean side of the filter, keep everything spotless.
Compression fittings with a ferrule that slips over the tubing will leak
if overtightened, finger tight with one half turn of a wrench is plenty.
The ferrule should be replaced if the fitting is ever removed.
If you can tap your manifold for a pyro tapping the banjo bolt is a piece
of cake. Just drill from the inside to keep the hole straight and tap from
the outside.
You can also connect to the bleed screw on top of your fuel
filter with the appropriate adapter to tubing if you don't want to tap.
The adapter is available from TST for $25 they say it is
for temporary use only
Fuel Pressure Adapter
.
I can see why it's not for permanent use, seems like the small bolt would break easily from engine vibration.
on edit, the adapter is no longer available.
After the install start your
engine with the needle valve closed then open it slowly till someone in
the cab signals you that it's just reading pressure. If you tighten down
the packing nut under the valve handle the setting can't move. The valve
will control pulsation and buzzing and can also be shut down in the
unlikely event that you have a leak. Without a valve to restrict the flow
the gauge will pulsate so badly that you won't be able to read it in the
short time before it self destructs. You can also use a gauge snubber
http://www.dfs-gauges-blog.com/inde...use-a-pressure-snubber-and-how-to-choose-one/
Cummins' pressure specs are 17-22 psi at idle, 25-35 at 2500 rpm no load,
Pressure should never drop below 15 psi under load for extended periods.
Parts list; 1/8'' needle valve - $2.50 from the hardware store, plastic
oil pressure tubing kit that comes with the compression fittings - under $10
from any auto parts store. 1/4'' tubing for protective sleeve - less than $2.
Gauge is your choice and may come with tubing. The pressure gauges I
use cost around $10 from here
Surplus Center
Check back if you don't see a gauge you like, their stock changes weekly.
From Grainger, needle valve
Valve, Needle, 1/8 In
Diagnosing problems using your fuel pressure gauge>
Low Pressure Fuel System Diagnostic Procedures
It won't cost you much at all for a gauge that besides keeping you from walking
will eliminate unnecessary fuel filter changes, paying for itself rapidly.
I can usually go at least 30k between changes.
New, if you don't want to tap your banjo get one here> Larryb - LarryB's Gauge Snubber / Drilled 12mm Banjo Bolt Combo
you should still install a needle valve though, they don't always snub the pressure spikes enough plus you can't turn them off in the event of a leak
.
Larry B's pre-tapped banjo bolt
Needle Valve Installed On Tapped Injection Pump Banjo Bolt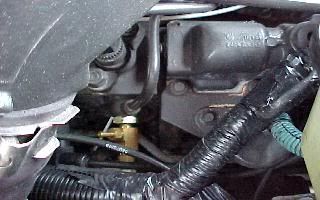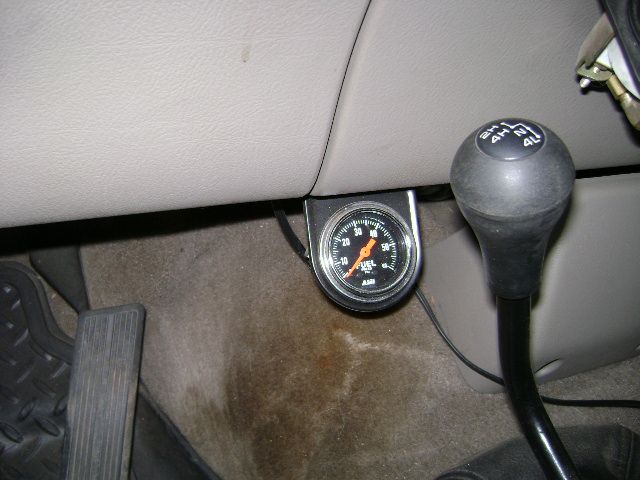 __________________