I got the he351vgt in and working off of exhasut manifold backpressure or drive pressure. I bought most of these parts from deerefanatic on here.
manifold adapter with a port coming out of it for the drive pressure line
cooling and condensing the exhaust gas
separating the solids and condensation before sending the gas to the air cylinder & pressure gauge
the air cylinder actuator and linkage. The red hose comes from an electric switch that lets in compressed air to activate the exhaust brake feature.
home made/modified 4in down tube with V band flange on top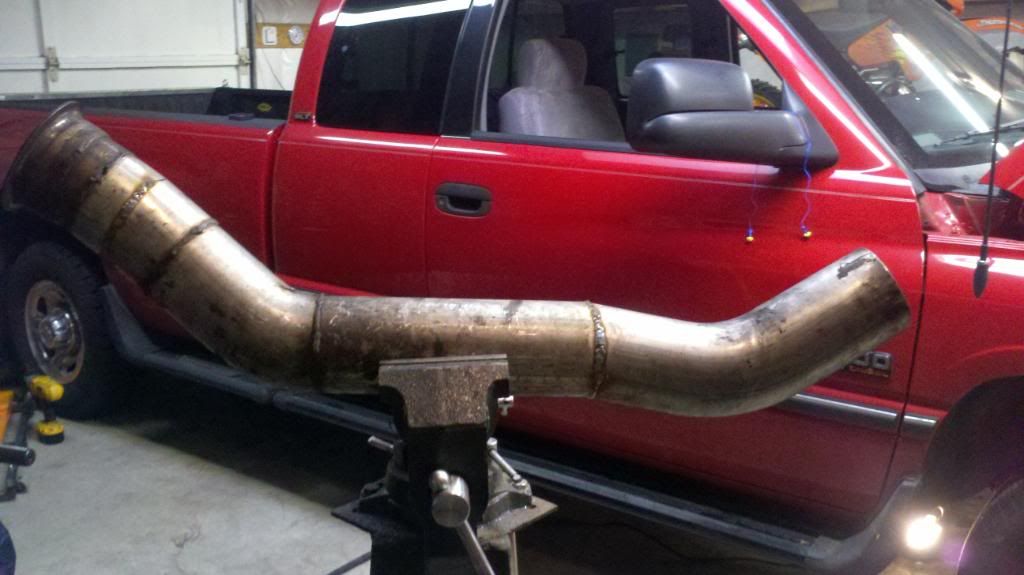 home made charge air tube
I thought if I ran the coolant through the turbo on its way to the heater core it would give me cab heat before the engine warmed up, plus warm the engine a little quicker, plus keep the turbo and the oil going through it a little cooler. That would be a win win win right? I can't tell that it really made much difference.
The stock air filter box and a bhaf won't fit on the fender anymore so I got this air filter for now. I'm not sure I want to leave it this way where in the summer while towing up mountain passes it will be drawing warm air off the turbo exhaust housing.
overall the project has
given me a little more boost pressure at low load
, like 4lbs of boost @ 1500 rpm @ 35 mph which means it can take more fuel instantly now making the truck quicker on acceleration.
reduced my exhaust back pressure
especially in 25 - 35lbs of boost ranges where the stock hx35 really became a restriction point for the exhaust.