By popular demand, this is the story of how d89 put a big boy alternator on his 12v Cummins: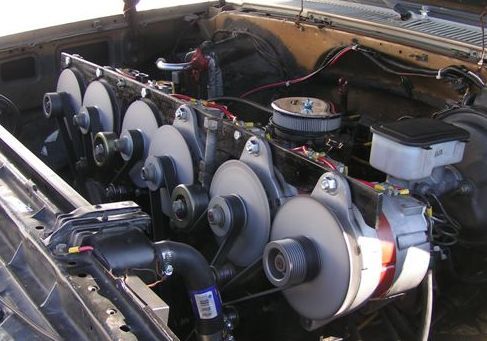 Not really. But that is pretty daggum sweet.
After an electric fan swap, the stock 130-amp Denso unit was quick to show it's limitations. Both fans on high speed (roughly a 60 amp draw) was enough to discharge the batteries at idle. The Leece-Neville 110-555 JHO I selected to replace it uses the J180 Long Hinge mounting configuration. This is one of several alternator mounting standards in the heavy equipment industry, and as such is very common. Most J180L alternators can be attached to the Dodge 6BT using the bracket and spacer dimensions in this writeup, however, some minor installation details will likely vary if you use another J180L alternator.
I chose the Leece unit (
brochure
,
tech specs
) because it was featured in a writeup that I followed for
installing a Leece-Neville on a 6BT in a 1st Gen
. This is a good writeup, but the pulley size information is useless for us with 2nd Gen trucks, due to outdated part numbers and a different crank pulley size. While I assumed most J180 alternators would fit, I wasn't interested at the time in taking a chance with something that I hadn't seen work. Remanufactured units can be bought online for $100 all day long. Any alternator shop worth their salt will have shelves full parts to rebuild one, and any truck shop with a parts department will have complete units in stock. The Leece is a good choice, but if I were to do this swap again, I would choose the Delco 28si (
brochure
). They are a newer and better design, are available with a 200-amp peak output, dual internal fans, a stronger low-rpm output curve, and remote battery voltage sensing. Reman units are available online for $150 and all the same stuff holds true about parts availability.
There are two ways to install the alternator. Each has benefits and drawbacks. The first "stock replacement method" adapts the alternator to the stock mounting location and orientation. The other "JoeDirtPNW method" installs the alternator upside down. I will cover both methods as I've ran both.
Stock Replacement Method
Pros:
Minimal fabrication. Most of the sleeves and spacers can be bought at a hardware store.
No permanent modification. It allows for a stock alternator to be reinstalled if necessary.
Cons:
Requires a light clearance grind to the belt tensioner.
The nut on the back of the lower mount is difficult to access.
Heater outlet tube must be repositioned, resulting in very little clearance to oil filter mount.
JoeDirtPNW Method


Pros:
Cleaner looking install.
Leaves more room on top of the alternator for *ahem* other stuff.
All mounting bolts/nuts are in plain sight and easy to access.
No clearance grinding required on belt tensioner.
Cons:
Requires more fabrication that the Stock Replacement Method.
Requires permanent modification to the thermostat housing.
Little clearance between the positive output stud and the oil filter. Use extreme caution when changing the filter.
Little clearance between negative output stud and turbo air inlet tube.
Stock Replacement Method Installation
I initially mounted it with the Stock Replacement Method as I was following the aforementioned writeup for installing a Leece-Neville on a 1st-gen truck. I have some reservations about the hardware that was chosen in that install. The SAE hardware (3/8" instead of M10, etc) hardware that was used left the alternator very sloppy on the bottom mount. Don't get me wrong. It tightened up fine and I ran it like that for probably 15k without any problems. But, the .030" diameter difference between the M10 clearance hole on the mount and the 3/8" bolt, and the .015" diameter difference between the existing mount holes on the alternator and the 1/2" OD of the store-bought bushings add up. A guy would be better off using the metric hardware I have outlined below. This better hardware does not match what I have in my pictures, but the "what" and "where" is all the same.
Stock Replacement Method hardware (non-critical dimensions are in green):
Top Bracket mount:
1/2-13 x 3/4 flange bolt (need 1)
1/2" washer (need 1)
Bottom mount:
.400" ID,

1" OD

, 2" long spacer (need 1)
.400" ID, .516" OD,

.560" long

bushings, or store-bought 10mm to 13mm bushings 16mm long (need 2)
M10x145mm flange bolt (need 1)
M10 flange nut (need 1)
No modifications need to be made to the lower mount. All the dimensional changes are dealt with by the bushings and spacers on the bolt. One of the smaller spacers goes inside each of the feet. The front one is slid back so you can see it: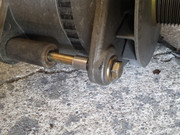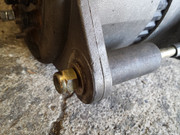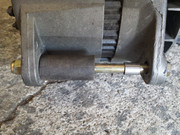 The stock upper mount needs a small tab added to it to accommodate the Leece's larger size. This could be made to bolt on to the stock mount, if a person chose. I decided to leave the existing hole open so that I could reinstall a stock unit if I had to.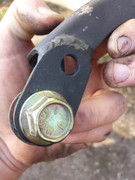 On mine, I had to put a washer between the tab and the alternator to preserve the alignment.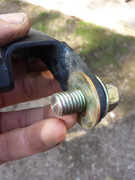 Installed: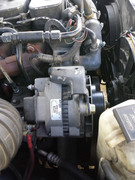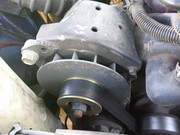 Lower mount: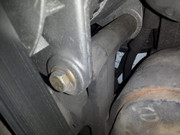 Clearance around lower mount nut: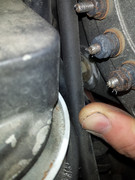 JoeDirtPNW Method Installation
I decided to re-mount my alternator like @
JoeDirtPNW
did in his build thread. My primary motivation for this was to eliminate the upper bracket used by the Stock Replacement Method to make more room for an engine-driven OBA compressor. Though, I would advocate this method in general because it's much easier to get to all the bolts when you need to take the alternator off, and it doesn't force the water pipe into the oil filter mount.
JoeDirtPNW Method hardware (non-critical dimensions are in green):
Top mount
.313" ID,

1" OD

, .940" long spacer (need 1)
.313" ID, .516" OD, .

560" long

bushings (need 2)
M8x150 flange bolt (need 1)
M8 flange locknut (need 1)
Side mount
.500" ID,

1" OD

, 2" long spacer (need 1)
1/2-13 x 3 flange bolt (need 1)
Bottom mount
M10x60 flange bolt (need 1)
M10 flange nut (need 1)
Custom bracket (print attached)
I removed 1/2" from the front of the top mount.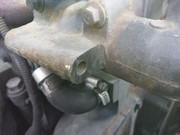 This is the top mount hardware: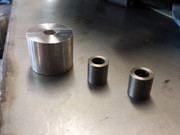 Upper mount:
Here's the lower mount hardware: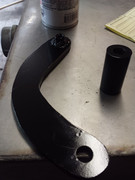 Here is the print for the lower mount. There is a higher quality PDF attached to this post.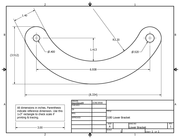 I decided to weld the M10 flange nut to the bracket. Easier that way.
Side mount: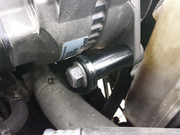 Lower mount, from rear: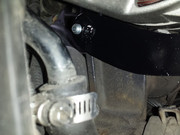 Lower mount, from front: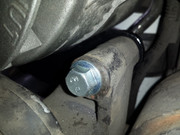 These show the tight clearance against the positive terminal and the oil filter: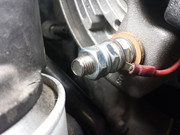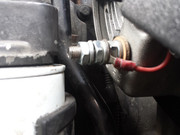 Install complete: