Purchase - 8-28-13
Well the day finally came where I got my Cummins
A bit of my story:
I've wanted a Cummins ever since I was 14 or 15 years old (I'm 21 now); they were always just so cool and I got the bug that I needed to build one. So it essentially became my dream to do that one day. Obviously it's not something I could afford right out of highschool, especially since I went to college right away, so that was put off. So that brings us to the point where I bought my 2012 Ram 1500 SXT. At the time when I bought it that was a huge purchase for me. I had just started a job with my new company so I didn't want to dig in too deep before everything was a little more routine and normal for me. Well since then I've been promoted and gotten a few raises so the Cummins bug was back at me again. I started looking on and off for the right deal to pop up. I wasn't overly serious about making a move but the option was definitely there. Well finally searching Craigslist one day this 3500 fully loaded Laramie Limited popped up and I knew I had to take a look. Well one thing led to another and bam! Now I own it.
For me this is everything I wanted in the truck to start with. It has every option I could think of, the right colour, Laramie Limited, 2012 (no urea junk)... it is essentially the start of my dream truck. So I'm very stoked about it. I figured now was the time to get into a truck like this before I'm overwhelmed with other bills later in life and won't be able to afford this truck. At least now I have the truck and I can slowly mod it as money comes in.
Numbers:
(remember, I'm in Canada)
Since I already know a bunch of you are going to ask what numbers I got in the deal I might as well post them now. I ended up negotiating with them on my truck as a trade in to what I consider a decent price considering what it was. I paid $25,500 10 months ago and have put about $10,000 into it since then. With the trade in value and tax savings because of it, it worked out to about $30,500 for my truck which I'm fairly happy with. Considering the depreciation of the truck I got a fair bit back for my mods.
Now for the new truck. The window sticker on it was $76,000. They had it listed for $70,000 on the lot and I got them down to a final price of $60,000. Again, I'm fairly happy with that deal as well considering everything the truck has.
Sponsorship:
This truck and myself are now sponsored by
Bully's Performance
. The majority of the parts (everything possible) that I want to put on this truck will be supplied by Bully's. I can't say enough about both Andrew and Jeremiah. They are incredible guys to work with and provide exceptional customer service. If anyone needs anything for their truck (even if it's not listed on their website) give either Andrew or Jeremiah a shout at
[email protected]
. They will help you find what you're looking for and give you the best pricing possible. Very stoked to have these guys supporting me on this build!
24hr Review:
Well so far I've had this truck for about 18 hours and it has been amazing! HUGE step up from my base trim 1500. The ride is incredible, a lot smoother than I expected for a 3500. The interior is immaculate and so well done. The features that it have literally blow my mind. Last night my dad and I just sat in the truck for an hour or so messing around with things and finding out what they all do both amazed at some of the features. The Cummins is amazing, more power and torque than I know what to do with at the moment. But I have huge plans for it, so things will come.... Overall I am 100% satisfied with the purchase of this truck.
Mod Plans:
I definitely have tons planned for this truck in my head already. Overall this will be a much slower build than my 1500 just because of the cost of things and warranty issues. But here are some of my short term and long term mod plans.
Short Term:
Remove mud flaps - complete
AntennaX 7" billet antenna - completed
Remove running boards - within a few days
Remove intake baffle - within a few days
LED license plate, reverse, and cargo lights - within a few days
Bakflip G2 Tonneau Cover - will be ordered right away
Rough Country Leveling Kit - within a few months
Boost and Pyro Gauges in A-pillar mount - within a few months
S&B intake - within a few months
Long Term:
(at the moment)
8" or 10" lift, not sure what brand yet
22x11 Fuel Krank wheels
40x15.5 Toyo MT's
H&S Performance Tuner
EGR delete
DPF delete
4" MBRP turbo back exhaust
Obviously I will think of other mods as time goes on... there will be lots. Everything will be updated in this thread.
Pictures:
And finally the part everyone wants to see.... At the moment I only have a few iPhone pictures, but once I have some time I'll get some with my T3i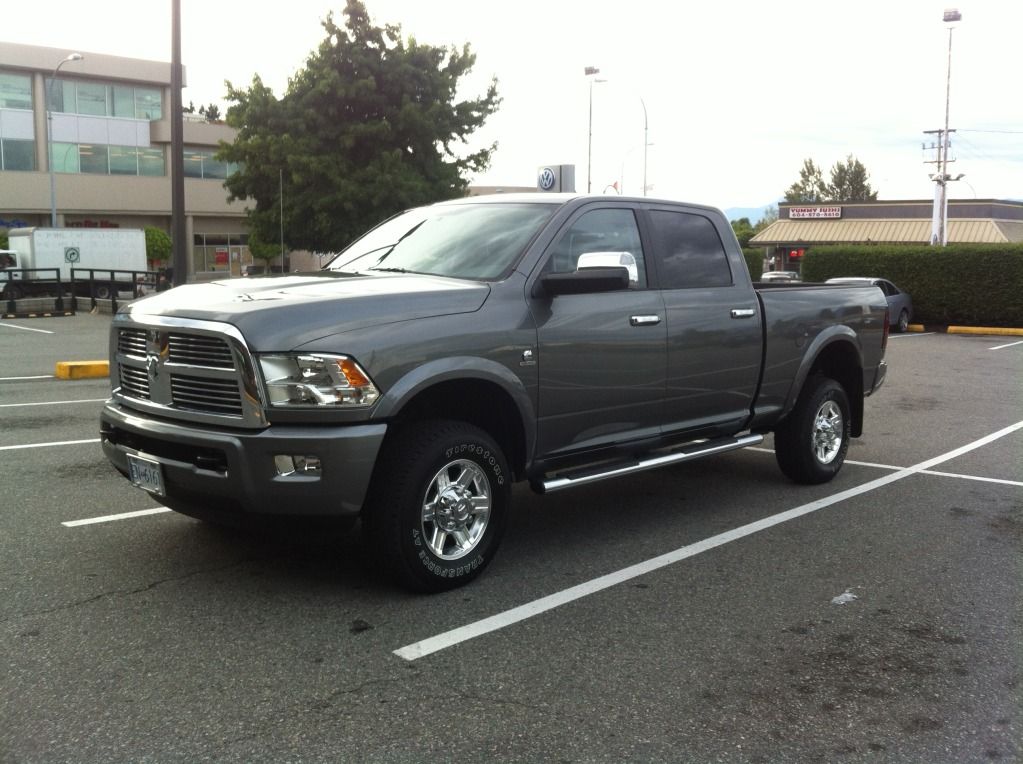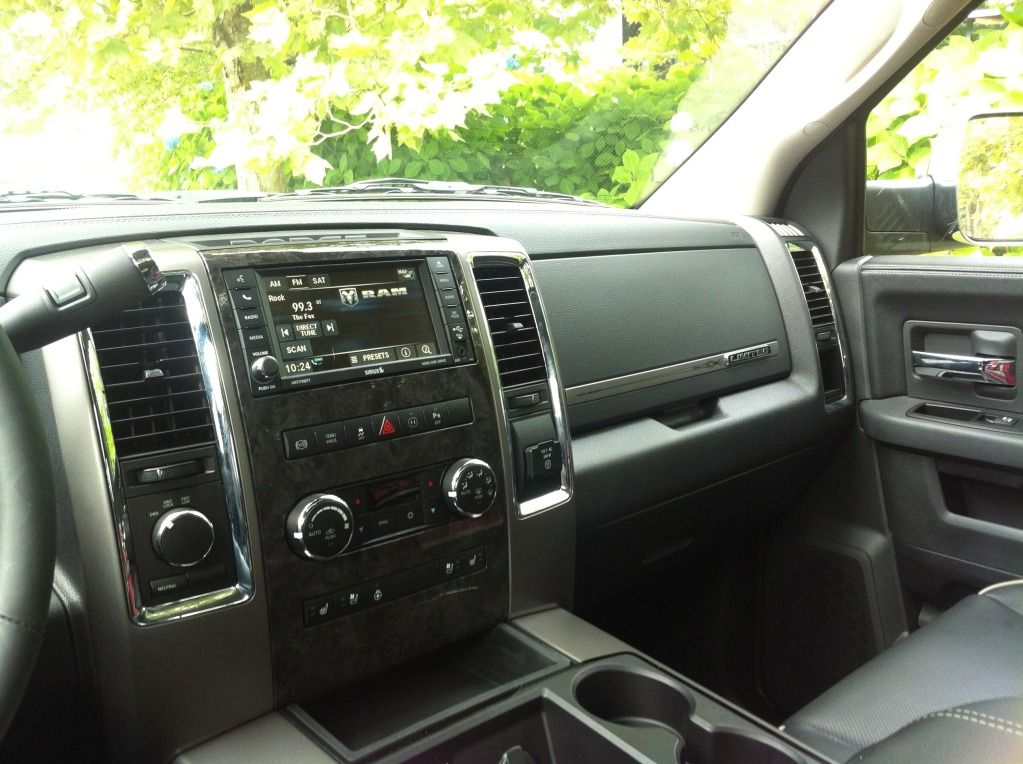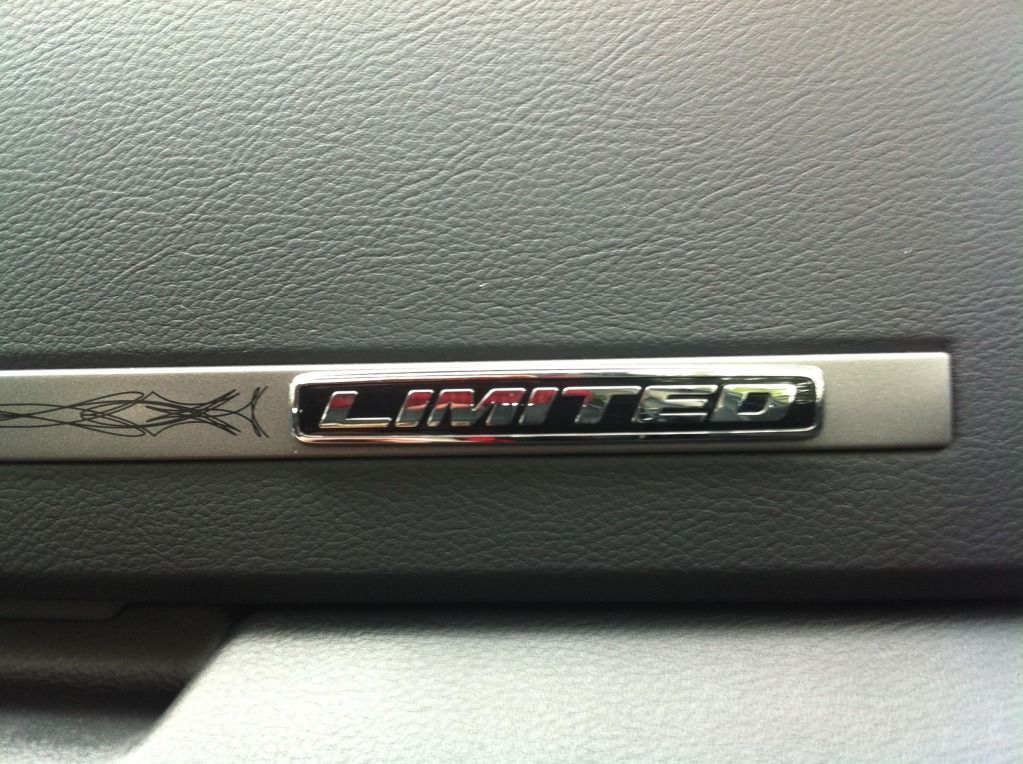 And a picture of me with my old 1500 SXT and my new 3500 Laramie Limited. The 1500 is quite a bit closer to the camera, that's why it looks so much bigger.... But for a brief period of time I owned both these trucks. Very happy to be driving away in the Cummins though