Hey guys, so I know this is a fairly simple thing to do I just wanted to do a quick write up and post some pictures for all those who are visual type of learners (myself included).
First thing first, make sure you pick out the correct fluid for your transmission. Whatever company, make sure it's a "syncromesh." I believe it's 5W30 weight but not the same as engine oil obviously. I chose to run Pennzoil Syncromesh...
Now there are a couple ways you can go about this. My 04.5 has two PTO (inspection) covers. One on the driver, one on the passenger. I don't have any flat ground around my house, which actually worked to my advantage. I parked with the driver side uphill. My theory was I could drain through the passenger side bottom PTO cover bolt, and fill through the top driver side PTO bolt. And because I was on an incline, it would allow my to add that 6th qt.
This is all the slope I needed to park the truck to get the extra qt in without having to use any type of jack...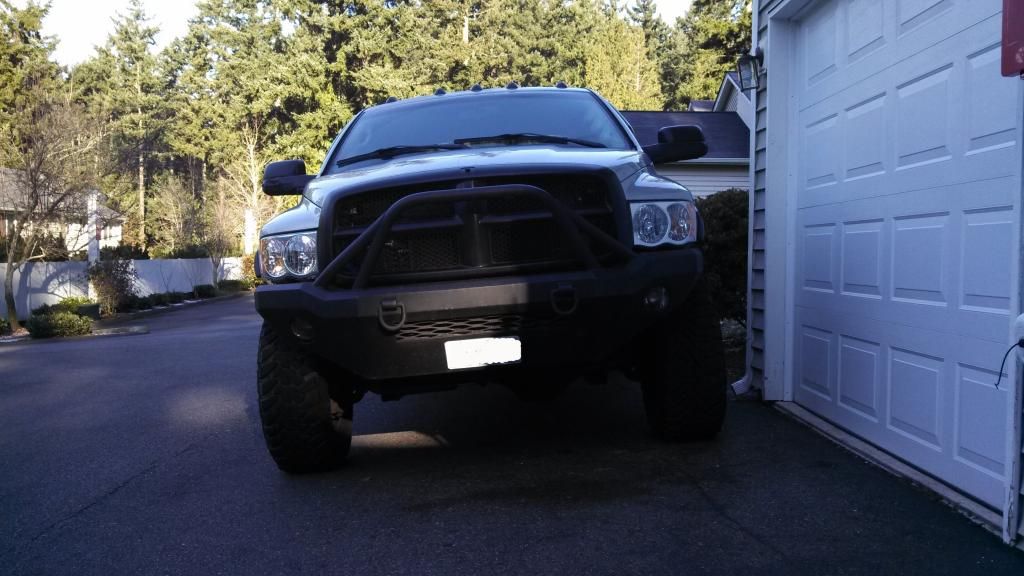 Remove the 9/16 bottom PTO passenger side bolt (downhill) and let drain. Once about complete, you can pull the cover off.
Bolts out passenger side... don't mind my home made exhaust hanger...:rof
Bolts out driver side...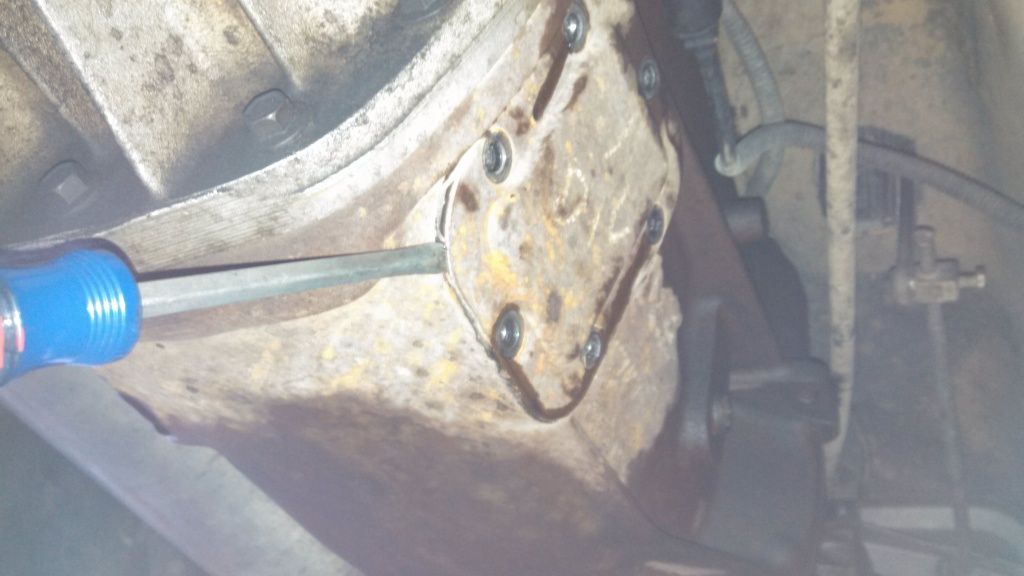 I had to tap a screwdriver in between the plate and housing to wedge it in. You can carefully pry and it should pop right off. It was sealed up with RTV from the previous owner.
With the covers off, I wanted to snap some photos before I cleaned any gunk out of the bottom. Everything in there looked really good actually, I was happy.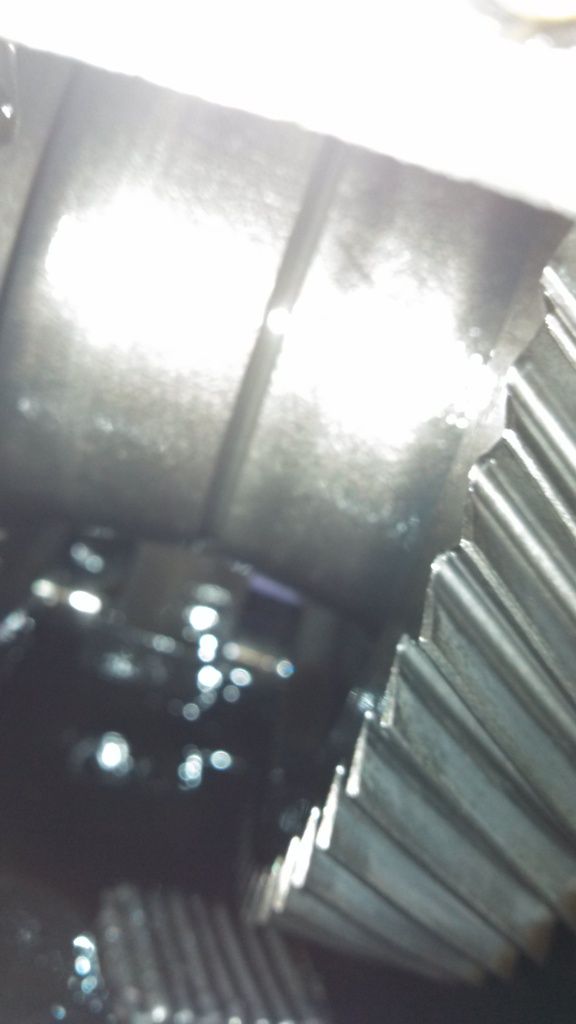 The collector magnet
Once those are off you can clean the bottom with a rag. I didn't know this prior to me getting in there, but I really didn't need to actually take the passenger side inspection cover out. I did it purely on I wanted the peace of mind of it being a new seal. You can only really get your hand in through the driver side area to clean out the bottom because of the gears and shafts in the way on the passenger side.
Once it's all clean in there, scrape away on the inspection covers.
One done, the other one not...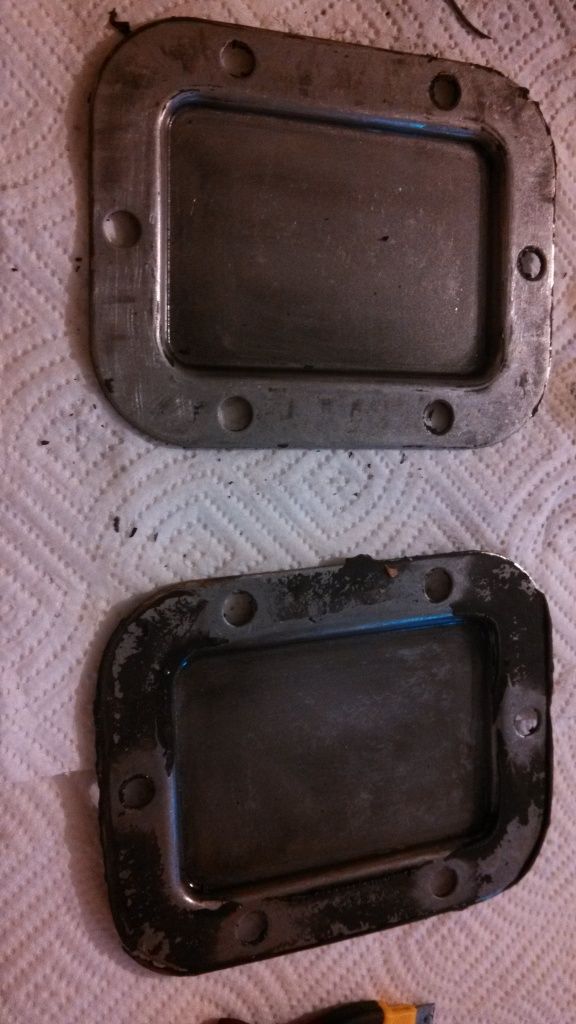 Surfaces all cleaned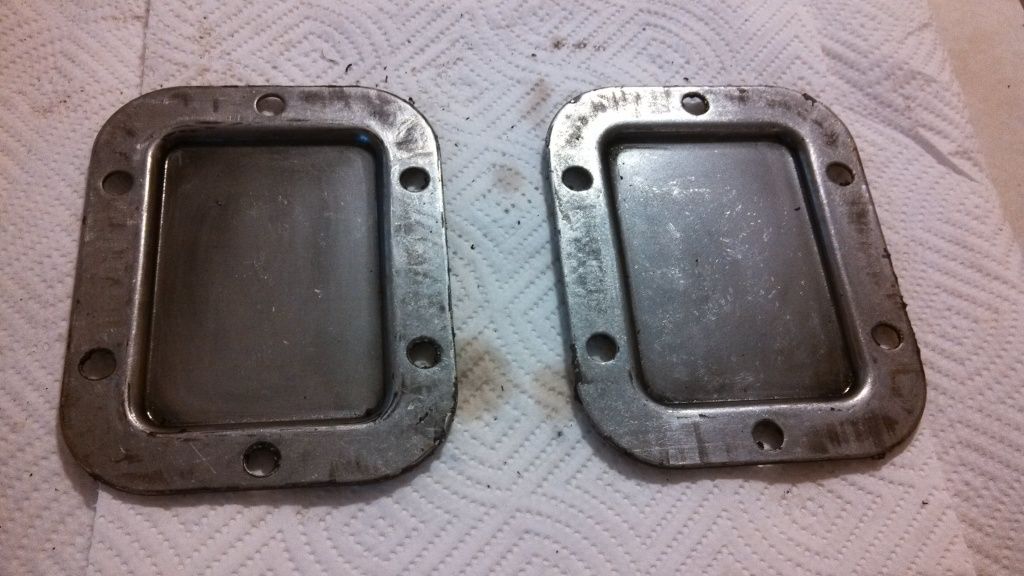 Once everything is cleaned, I laid a bead of Ultra Black RTV on each cover and around the bolt holes. I bolted up the passenger side first since it was downhill and it would give the RTV a bit of extra time to set up...
Another great shot of the DIY hanger. It looks kind of messy but I cleaned it all up with some brake cleaner and a rag.
I then did the same to the driver side, except left the top bolt out as the fill hole. Note that I torqued everything down on the passenger side when I did that side.
For the driver side, I snugged everything up, filled through the top hole, installed the top bolt, then torqued everything down. I didn't follow any torque specs for the bolt covers, just got 'em good and tight without over doing it. They came out pretty easy.
6 qts through the top hole and you're done. It was a bit tricky to get the fluid in there. No hose I had would fit in there, so I decided to just cut the tip off the bottle and squeeze it in by hand. It worked, and there was enough room to get the bottle at an angle to get all the fluid in there. Once it was almost dry, I poked a hole in the bottom side of the bottle to aid with the last bit of flow and fluid getting in there. I let the truck sit for a couple hours before I drove it around, but it should be good to know. I didn't see any leaks. The Ultra Black fully cures in 24 hours.
Hopes this help anyone tackle this pretty simple job.