Newbie
Join Date: Jan 2013
Posts: 1
Thanks: 0
Thanked 0 Times in 0 Posts
iTrader Score: 0 reviews
01 cummins heat problem
---
Hey guys I know this topic has been beat up pretty bad. I'm trying to bring a used and abused 01 dodge cummins with 325000km back to life. In running into heater problems. I got the dash all apart and a new heater core on the way. My only question is how do I know the control switch is actually switching from hot to cold. The truck only blows luke warm air, but when switched to cold I does switch to cold. It's almost like the gate is only opening a quarter way. Either that or the core was plugged. But it's leaking anyway so needs replacing. I just don't wanna put I all back together and find out its just the air control switch, cause i aint taking it apart again ! Anyone know some trouble shooting ideas? Thanks in advance !
Sent from
AutoGuide.com Free App
Cummins Fanatic
Join Date: Sep 2011
Posts: 108
Thanks: 8
Thanked 1 Time in 1 Post
iTrader Score: 0 reviews
your heater core will make a big dif. check your thermostat too jus my .02 i had to change my heatercore mine was so bad it actually wud fog coolant in the cab when i turned the heater on works great now dont no bout the switch part tho
---
2000 24v raptor 150 1/2 lines BHAF crazy Carl's intake horn 150hp farmboys injectables edge juice att isspro guages boost pyro fuel psi 5" diamond eye arp studs valair 13'' swap ceramic single disc
Diesel Head
Join Date: Jan 2008
Posts: 1,796
Thanks: 547
Thanked 220 Times in 198 Posts
iTrader Score: 0 reviews
the blend door actuator motor is under the dash just right of the hump. I would make sure the blend door is swinging freely by hand with no restrictions prior to putting it back together. Also make sure your blend door motor is working properly rotating the blend door , they do fail fairly frequently.
---
01 auto 4 by 4, Fass 150, edge juice attitude, hot unlock, bd towing twins,stage one cam, F1 4.8 injectors, , ported fireringed head , 110 springs, full billet DTT ,ARP studs, four inch mbrp, ARE dcu, , line x ,bedslide,
To view links or images in signatures your post count must be 3 or greater. You currently have 0 posts.

Diesel Head
Join Date: Aug 2007
Location: Edmonton, Alberta
Posts: 5,650
Thanks: 24
Thanked 644 Times in 567 Posts
iTrader Score: 0 reviews
also if your in Canada (judging by use of KMs) do NOT install a spectra heater core, they are sold by most after market parts places, I have spent many hours chasing heat issues, they do not perform well, they are cheap 60-80$ vs 300 from dodge,
likely you will find the old one is plugged internally, and if you had a low air output from the vents the evap core will be plugged near solid with oily dirt, I will post a couple pics of this later.
also DO not use a MOTORAD or stant thermostat,as they wont direct hot coolant thru the heater core. (pics to follow) cummins wants near 130$!!!! for a thermostat, but it is amazing the difference in heat output.
---
2003, QC/SB. Edge Juice,Hot, AirDog150/BMS50 nozzles S&B CAI, BD Flex plate/tripple loc T/C. georend VB/ Trans rebuilt by Me. Bilstien5100. carli coils, Air Bags. RETIRED Military Mechanic (20yrs)
---
Last edited by nickg; 03-17-2013 at

10:27 AM

.
Diesel Head
Join Date: Aug 2007
Location: Edmonton, Alberta
Posts: 5,650
Thanks: 24
Thanked 644 Times in 567 Posts
iTrader Score: 0 reviews
here is what my evap core looked like at 297,000kms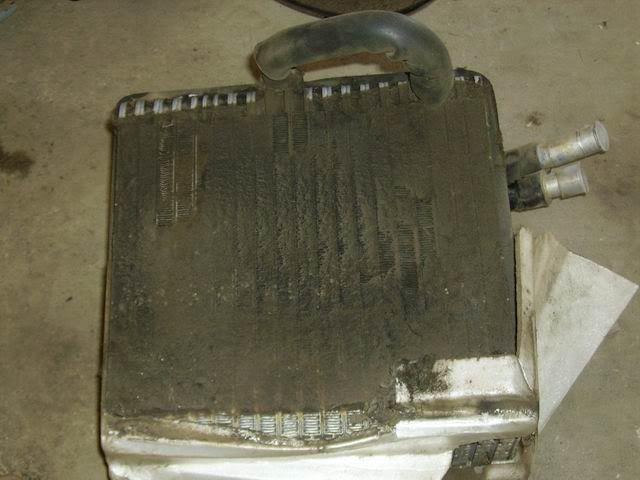 here is the difference between the stant and the OEM thermostat, the oem has the plate on the bottom, it directs coolant thru the core, while the non-plate thermo will regulate the temps properly, it will NOT give the same heat as the OEM, even though they will both get the engine to 195F..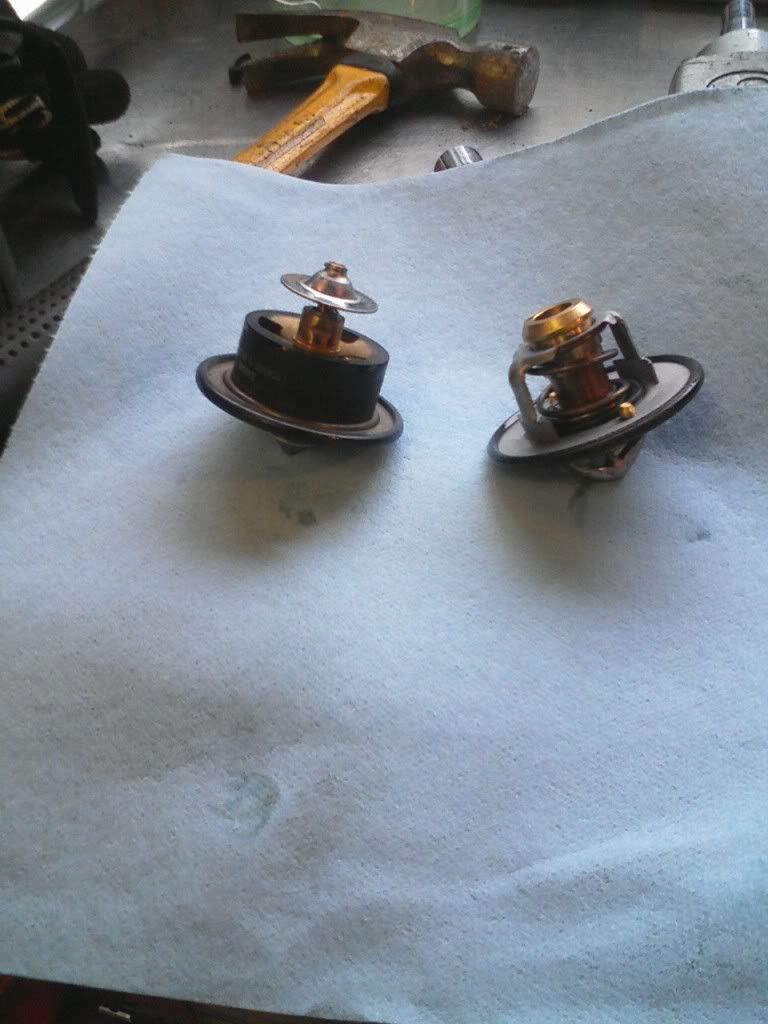 ---
2003, QC/SB. Edge Juice,Hot, AirDog150/BMS50 nozzles S&B CAI, BD Flex plate/tripple loc T/C. georend VB/ Trans rebuilt by Me. Bilstien5100. carli coils, Air Bags. RETIRED Military Mechanic (20yrs)
Diesel Head
Join Date: Aug 2007
Location: Edmonton, Alberta
Posts: 5,650
Thanks: 24
Thanked 644 Times in 567 Posts
iTrader Score: 0 reviews
---
2003, QC/SB. Edge Juice,Hot, AirDog150/BMS50 nozzles S&B CAI, BD Flex plate/tripple loc T/C. georend VB/ Trans rebuilt by Me. Bilstien5100. carli coils, Air Bags. RETIRED Military Mechanic (20yrs)