Probably the first part to wear out on any 12 valve.
The overflow valve regulates lift pump fuel pressure to the injection pump.
Low fuel pressure can cause white smoke, low power and hard starting.
By far the best price for an OEM Bosch Valve is here>
http://www.fostertruck.com/Overflow_valve.htm
Larry also sells the adjustable type OFV that many believe is better.
Oil fill at lower left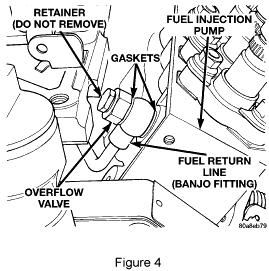 5 Minute one wrench job if the old valve doesn't hit the intake when you unscrew it.
Don't bend the metal line to get it out, almost impossible to line it back up.
Instead take the retainer off the old valve, new valves don't have the retainer.
If that doesn't work you will have to file or grind the notch in the intake deeper.
Stuff a rag between the injection pump and intake before you start so if the sealing washers drop you can find them.