Cummins Fanatic
Join Date: Dec 2011
Posts: 104
Thanks: 1
Thanked 4 Times in 4 Posts
iTrader Score: 0 reviews
2010+ upgrade wheel/tire sizes?
---
what size you guys running on the 2500 series with no lift?
how about 2010+ power wagon with no lift?
what is biggest size you can fit?
17" and 20" combos..
Cummins Enthusiast
Join Date: Nov 2008
Location: WV
Posts: 246
Thanks: 16
Thanked 52 Times in 32 Posts
iTrader Score: 0 reviews
Check the tires and wheels forum, the data that you are looking for is there....more than you can digest....
---
NEW: 2016 Ram 2500 6.4 CrewCab 4x4
SOLD: 2012 Ram 2500 6.7 HO CrewCab 4x4
SOLD: 2006 Ram QC CTD 3500 TRX4
To view links or images in signatures your post count must be 3 or greater. You currently have 0 posts.

Diesel Freak
Join Date: Jul 2010
Location: Lake St. Louis, MO
Posts: 608
Thanks: 256
Thanked 120 Times in 99 Posts
iTrader Score: 0 reviews
You'll have to do some digging but there are a few threads on here with those of us with no lifts and running larger wheels/tires.
Mine are 20x9 with +10 offset and 305-55/20 Nitto Trail Graps.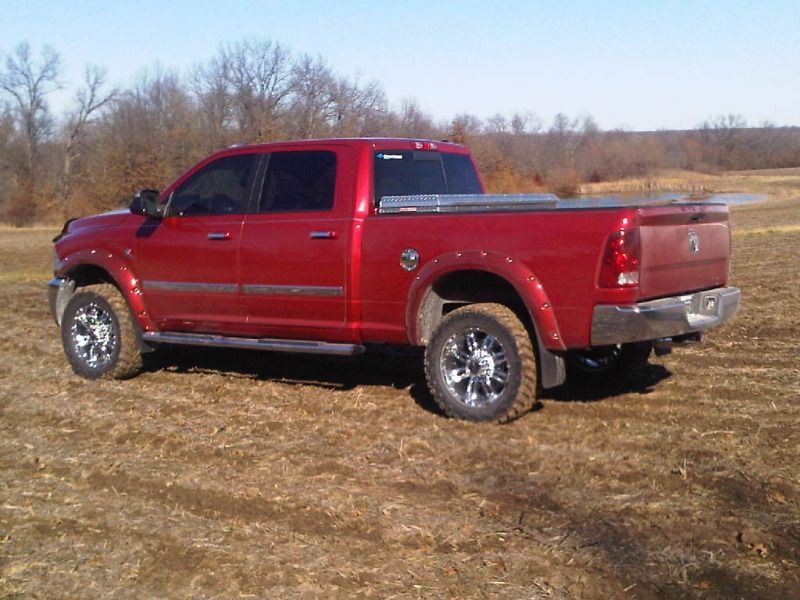 ---
2010 Dodge Ram 2500 SLT 4x4 - Inferno Red || 20x9 Incubus Crushers with 305-55/20 Nitto Trail Grapplers || Bushwacker flares color matched || H&S Mini w/ O.D. || Sinister EGR || Flo-Pro 5" TBE || ARP 2000 studs || BD Brace || AFE CAI